Foreign Office responds to article in The Telegraph on the persecution of Christians in the Middle East
Foreign Office Minister Alistair Burt said the persecution of Christians in the Middle East is a profound concern and it is wrong to suggest the Foreign Office is not confronting it.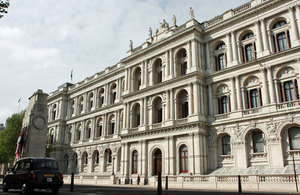 Speaking today the Foreign Office Minister said:
"Fraser Nelson (Telegraph, 23 December) is right to raise concerns about persecution of Christians in the Middle East but wrong to suggest the Foreign Office is not confronting it.
"The truth is that the Foreign Office very much shares concerns about Christians facing persecution. The promotion of human rights, including freedom of religion, is at the heart of our foreign policy. The Foreign Secretary's Advisory Group on Human Rights, set up by this government, has identified religious freedom as a key issue.
"Attacks against Christians in the Middle East are deeply worrying. In the wake of the Arab Spring, we are urging governments and oppositions to ensure a place for all groups in society. We work closely with groups representing oppressed Christians, who are almost uniform in recommending that our work is done in the wider context of rule of law, and support for all minorities, to avoid risks of further targeting.
"Britain raises these concerns at Ministerial level and through our Embassies. We lobby governments about individual cases of persecution or discrimination, and we call for changes in discriminatory practices and laws.
"Concrete examples include: Iraq, where the Prime Minister and Foreign Secretary have raised religious freedoms and where the FCO is funding a further meeting of the High Council of Religious Leaders; Algeria where I recently met a delegation of Christian leaders to discuss the challenges they are facing; Egypt where the Deputy Prime Minister has raised our concerns direct with the Prime Minister; and further afield, in Pakistan where we have been working closely with the Minister for Minorities to increase the profile of religious freedom.
"The persecution of Christians is a profound concern. We do not tolerate it and will continue to be active in working against it."
Published 27 December 2011