Press release
Foreign Office Minister supports democratic process in Madagascar
Foreign Office Minister Mark Simmonds expresses UK support for the democratic process in Madagascar.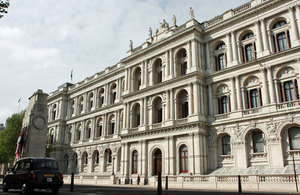 Following recent developments in Madagascar, Foreign Office Minister for Africa Mark Simmonds said:
The UK continues to support international efforts by the Southern African Development Community (SADC) to return Madagascar to constitutional Government following credible elections.

I fully endorse both the communiqué by the SADC Troika on 10 May and the declaration by Baroness Ashton, EU High Representative for Foreign Affairs and Security Policy on 15 May, urging all parties to respect the election calendar and the SADC-led Roadmap. The UK expects due electoral process to be followed and will continue to monitor the situation closely.
Further information:
Read the SADC Troika communiqué
Also, read the declaration by Baroness Ashton (in French)
Published 16 May 2013