Foreign Office Minister meets Japanese Deputy Foreign Minister Yutaka Banno
Foreign Office Minister of State Jeremy Browne: "Today's meeting has further enhanced the strong bilateral relationship the UK enjoys with Japan."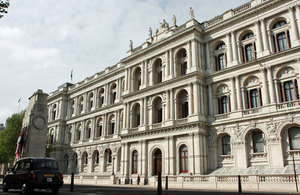 Speaking after the meeting Foreign Office Minister Jeremy Browne said:
"I am delighted to welcome Japanese Deputy Foreign Minister Banno, who is here in London to attend the Global Alliance for Vaccines and Immunisation Conference.
Deputy Foreign Minister Banno and I discussed the progress made at the recent EU-Japan Summit, particularly negotiations towards an EU-Japan Economic Partnership Agreement (EPA). The UK is supportive of this Agreement. Our priority is to ensure that an eventual EPA helps create British jobs and supports economic growth, and there are great potential benefits for both our economies. The removal of tariff and non tariff barriers could deliver over forty billion Euros of additional European exports to Japan and more than fifty billion Euros of additional exports from Japan to the European Union.
Japan is an important international partner on security issues bilaterally and more widely, where we are both strong Allies of the US. We explored how our two countries can work more closely together in Libya as members of the Contact Group to protect the Libyan people from Qadhafi's murderous attacks and help them determine their own future. We also discussed a common approach to challenges such as nuclear proliferation - particular in Iran and the Democratic People's Republic of Korea.
I reiterated my personal condolences to Deputy Foreign Minister Banno following the March earthquake and made clear my admiration for the resilience of the Japanese people throughout this tragedy. Deputy Foreign Minister Banno updated me on the latest situation at the Fukushima Daiichi nuclear power plant and the wider reconstruction effort in North East Japan. I made clear that the UK stands ready to provide further assistance for the wider reconstruction effort in the months ahead including in the field of nuclear clean up.
Today's meeting has further enhanced the strong bilateral relationship the UK enjoys with Japan. I plan to visit Japan next month when I hope to further strengthen our long-standing commercial, cultural and political ties."
Published 14 June 2011