Foreign Office Minister Jeremy Browne visits Barbados
Foreign Office Minister Jeremy Browne will be visiting Barbados from 16 to 18 January as part of a wider Caribbean visit including Trinidad & Tobago and Jamaica.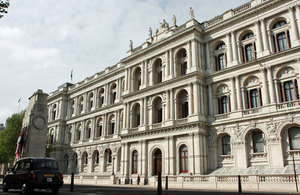 He will be the first minister from the new UK coalition government to visit Barbados.
During his trip, the Minister will have bilateral meetings with key government ministers. He will also meet key UK businesses from the tourism sector based in Barbados, and visit Sport for Life, a Cricket World Cup legacy project at the Kensington Oval.
Speaking ahead of his visit, Jeremy Browne said:
"I am delighted to be the first British Minister to visit Barbados under the UK's coalition government. The British Government recognises the close historical ties that exist between our two countries. We already share many values and work closely on the full range of international issues, including on climate change and security co-operation.
"The ties between our countries are strong. Nearly 340,000 British tourists visited Barbados in 2010 and I look forward to talking to British and Barbadian representatives of the tourism sector and seeing for myself our Consular operation in the Eastern Caribbean. There are already several prominent British businesses operating in Barbados and during my trip, I will be speaking to business leaders directly to see how the UK government can support increased trade and investment in Barbados"
Published 14 January 2011