News story
Foreign Office Minister for Human Rights visits Oslo
Baroness Anelay visited Oslo for discussions on advancing women's rights in Afghanistan and met First Lady Rula Ghani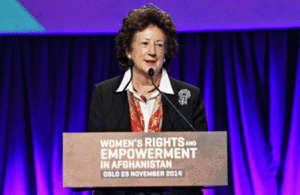 Foreign Office Minister, Baroness Anelay, visited Oslo from 22 - 24 November for a series of high level discussions hosted by the Norwegian Minister of Foreign Affairs, Børge Brende, on advancing women's rights and empowerment in Afghanistan.
This event built on last November's US led Georgetown University symposium entitled 'Advancing Afghan Women' which focused on how to sustain and advance gains made by women in Afghanistan.
The discussions during the event in Oslo have provided further input on women's issues ahead of discussions during the London Conference on Afghanistan on 3-4 December 2014.
During the visit, Baroness Anelay met with the First Lady of Afghanistan, Rula Ghani, where she reiterated support to Afghanistan human rights, in particular women's rights. The visit was also an opportunity to meet with several government officials to discuss Human Rights issues, as well as with a number of NGOs.
The Minister also met with Chairperson of the Afghan Independent Human Rights Commission Sima Samar and reiterated the UK's support to the Commission. She then met with Abid Raja and Sylvi Graham, members of the Norwegian Parliament, who recently convened an international parliamentary group on freedom of religion or belief.
Baroness Anelay delivered a closing address at the Afghanistan event, alongside Foreign Minister Børge Brende, where she gave a look ahead to the London Afghanistan Conference. Other key attendees included Afghanistan Minister of Women's Affairs Professor Hussun Banu Ghazanfar, Afghanistan Women's Network Director Ms. Hasina Safi and Director, Afghanistan MP Ms. Shinkai Karokheil.
Speaking during the conference, Baroness Anelay said:
This year, the world witnessed an historic moment when millions of Afghan women turned out to vote, despite the risks that were involved.

Women are beginning to make the contribution they can - and should - to Afghanistan's society, economics, politics and security. They are making their voices heard. We are determined that they will not stand alone and we must continue to give them our full support.

The British Government is providing this support through its direct engagement with civil society organisations on the ground, including the Afghan Independent Human Rights Commission. We have shown our support through our work to help achieve the implementation of UN Security Council Resolution 1325 on Women Peace and Security. And we will use the London Conference on Afghanistan next month to ensure that the issue of women's rights remains high on the agenda.

These are all important steps, towards which many people, including Rula Ghani, Afghanistan's First Lady, and others who I have met, are making a vital contribution.
During the visit to Norway Baroness Anelay also met Norwegian State Secretary Bård Glad Pedersen to discuss the importance of the UK and Norway continuing to work closely on human rights, energy security and climate change.
The Minister delivered a keynote address at a Climate Solutions for Transportation Conference on 24 November, arranged by the Confederation of Norwegian Enterprise, and the British, German, and French Embassies in Norway.
Baroness Anelay continued:
This visit also enabled me to see firsthand the close and deep co-operation between the UK and Norway.

I was delighted to speak at a conference on Climate Solutions for Transportation, which focused on the innovation that business is driving forward to build more sustainable infrastructure. The UK and Norway are leading on green growth and we are proving with our policies that Europe can retain its competitive edge in the low-carbon race.
Further information
Photos from the event can be found on Flickr
Follow Foreign Office Minister Baroness Anelay on twitter @JoyceAnelay
Follow the Foreign Office on twitter @foreignoffice
Follow the Foreign Office on facebook and Google+
Published 24 November 2014