Foreign Office Minister discusses events in Afghanistan, Libya and Syria
Minister for the Middle East and North Africa Alistair Burt spoke about developments in Afghanistan, Libya and Syria on the Andrew Marr Show today.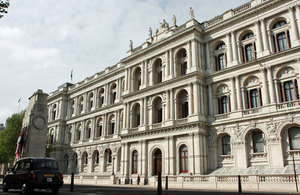 Speaking on Afghanistan and the helicopter crash on 6 August in which US and Afghanistan servicemen were killed, Mr Burt said:
"At the moment the investigation isn't complete, it's not possible to say precisely what happened, but however it happened, the loss of so many forces is a matter of deep regret. The Prime Minister issued a statement yesterday about this. It's terribly sad.
"The determination of both the United States, ourselves and the people of Afghanistan to make their country secure for the future is undiminished by an incident like that, but it reminds us of the cost.
"It is very hard and its impact shouldn't be diminished. But at the same time there are other things going on that show what progress is being made. Provinces are still moving to transition, that is where the Afghan security forces take control for their own areas. That process is proceeding. In Helmand where our forces have been so extraordinarily committed, that too is moving towards a transition where Afghan forces are, are taking over their own security. There's work going on on political reconciliation, there's work going on in terms of constitutional development.
"There will be setbacks, there will be incidents such as the ones we've seen but it is important to balance it with the other good work that's been done and that's why I think both ourselves, the United States, are committed to helping the Afghan people beyond 2015 when our combat troops will have left because there's so much more development to be engaged in."
The Minister also discussed Libya. He said:
"We see steady incremental progress being made. All the time the Gaddafi regime is being degraded politically, diplomatically, economically through the impact of so many nations working together. I've been in both Abu Dhabi and Istanbul for the two Contact Group meetings with the Foreign Secretary recently to see the commitment of other nations who know that Gaddafi was a bad example of Arab Government, of North African Government and they want to see him gone. They want to see civilians protected which is the UN resolution and that determination to do that is very clear."
On Syria, the Minister said that the UK and its international partners remained deeply concerned at the security and humanitarian situation in the country. Noting that the UK was working with partners to take action, he said:
"We've been at the forefront in terms of EU sanctions on key figures who have been responsible for the violence. We helped to get the UN Presidential statement last week, but interestingly over the last twenty four hours a statement by the GCC, the Gulf countries, is the first time a group of Arab nations have said this really has to stop."
Published 7 August 2011