Press release
Foreign Office Minister condemns Israeli settlement announcement
Minister for the Middle East Tobias Ellwood condemns Israeli settlement announcement and urges reversal of decision.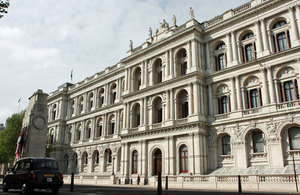 Foreign Office Minister Tobias Ellwood said:
The UK condemns the Government of Israel's decision of 30 January to publish new tenders for 450 settlement units in the West Bank of the Occupied Palestinian Territories. The UK's position on Israeli settlements is clear: they are illegal under international law. We urge the Government of Israel to reverse this decision. It is important to focus on steps that are conducive to peace.
Further information
Follow Foreign Office Minister Tobias Ellwood on twitter @TobiasEllwoodMP
Follow the Foreign Office on twitter @foreignoffice
Follow the Foreign Office on facebook and Google+
Published 30 January 2015