Foreign Office Minister calls on all parties to end violence in western Burma
Foreign Office Minister Jeremy Browne 'deeply concerned' by ongoing violence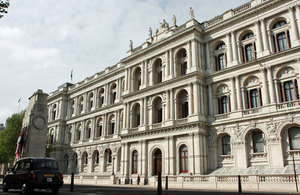 Following reports of further civil unrest in Rakhine State in western Burma today, Foreign Office Minister Jeremy Browne said:
"I am deeply concerned by the ongoing violence in Rakhine State. We call on all parties to act with restraint, and urge the authorities and community leaders to open discussions to end the violence and to protect all members of the local population. The UK and international community will continue to monitor the situation very closely. We have welcomed the reforms led by President Thein Sein and Daw ASSK in Burma in recent months and hope that they will work with the local authorities and community to resolve the situation rapidly in a peaceful and constructive manner."
In light of the ongoing violence, Mr Browne this evening announced that the FCO had updated its travel advice to advise 'against all but essential travel to Rakhine State in western Burma' including the state capital, Sittwe. He said:
"The safety of British Nationals is our priority. We have carefully reviewed our advice and now advise against all but essential travel to Rakhine State due to ongoing civil unrest in several locations and the risk that the situation could worsen. This does not affect other parts of Burma including the capital, Rangoon.
"The Burmese Government this afternoon announced a State of Emergency and a curfew across much of Rakhine State, including Sittwe. The current curfew times are 6pm to 6am Burma time, but this may change. We advise any British Nationals in Rakhine state to check the timings of the curfew locally and follow any instructions.
"The Embassy in Rangoon stands ready to provide consular assistance. British nationals working for NGOs and other companies should keep in close contact with those organisations. British tourists in the area should stay in close touch with their tour operator if they have one"
Published 10 June 2012