Press release
Foreign Office marks Human Rights Day 2014
UK marks UN Human Rights Day by reaffirming the importance of civil society for Human Rights worldwide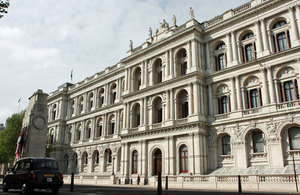 Today marks UN Human Rights Day, celebrated every year to remind us that the Universal Declaration of Human Rights is the common standard to which every country must aspire.
This year the Foreign and Commonwealth Office (FCO) will mark the day with particular attention to the pressure which civil society organisations are under in a growing number of countries. Continued misuse across the world of the laws that apply to civil society organisations undermines democracy and the concepts and traditions at the heart of the UK's human rights approach.
Minister for Human Rights, Baroness Anelay, will host an event at the FCO with representatives from Amnesty International, the Westminster Foundation for Democracy and a human rights activist from Kenya to discuss how best to protect 'civil society space' in countries where it is threatened.
The FCO's Youth Inspiration Group will contribute to the event with a social media competition to answer the question 'why is civil society important to human rights.'
Speaking on Human Rights Day the Foreign Secretary, Philip Hammond said:
On Human Rights day, we call on governments around the world to do more to foster the role of civil society in promoting and defending Human Rights.

States with strong civil societies are more stable, more prosperous and better neighbours. Civil society continues to play a crucial role in protecting and promoting human rights, and allowing citizens to hold their governments to account.
Baroness Anelay said:
Our responsibility to promote and protect human rights overseas is integral to our national interest because of their vital role in contributing to international peace, security and prosperity - all of which benefit Britain.

The United Kingdom is absolutely committed to working with civil society to protect individuals from discrimination, violence and intimidation and to speak up - both in public and private - for those without a voice.

Today I am delighted to be joined by representatives from civil society organisations to hear how they think the UK can help stem the tide of laws and procedures, in many parts of the world, which portray civil society as a threat; and how we can convince such countries that a dynamic civil society is essential for their own wellbeing.
Through our membership of the United Nations Human Rights Council and other organisations, such as the Organisation for Security and Co-operation in Europe (OSCE), the UK is using its influence to deter and oppose those who regard civil society as something to fear.
FCO Ministers also marked Human Rights Day by issuing blogs related to their specific portfolios and how human rights and civil society are crucial to their work.
Further information
Follow the Foreign Secretary on twitter @PHammondMP
Follow Foreign Office Minister Baroness Anelay on twitter @JoyceAnelay
Follow the Foreign Office on twitter @foreignoffice
Follow the Foreign Office on facebook and Google+
Published 10 December 2014