Press release
Food and Environment Research Agency: new business model
Environment Minister Lord de Mauley has started a new exercise to find a potential commercial partner for the Food and Environment Research Agency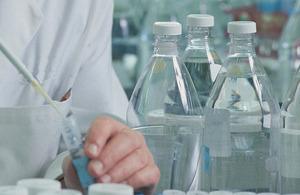 A project looking at a new business model for the Food and Environment Research Agency (Fera) has been announced by Environment and Science Minister Lord de Mauley today.
Defra is beginning a 'market sounding' exercise to discuss options for a possible new joint venture with potential partners which will enable Fera to grow while continuing to provide high quality services to government.
Fera is a world renowned scientific organisation, which works with a large number of public and private sector companies. Currently 75% of Fera's revenue comes from central government but as the level of government income is expected to fall over the next few years, Defra is looking closely at how it allocates its resources.
In any new structure, key teams such as the Bee Health Inspectors and the Plant Health and Seeds Inspectorate will remain inside government to ensure that animal and plant diseases are monitored and reported.
To protect Fera's scientific capability in the long-term, the government is exploring whether to bring in a partner or partners, which will commit a financial stake in Fera's future and with expertise to enable its non-government revenue to grow. A joint venture could free Fera from public sector constraints and boost commercial expertise, allowing Fera to access new markets and grow both its government and non-government businesses.
Defra will also retain the necessary level of control to ensure that Fera continues to be able to respond to emergency situations such as a major plant health or food incident. Any option will be considered in detail before being implemented.
Environment Minister Lord de Mauley said:
World-class science is an asset that we all benefit from and I want to see Fera grow and develop into the future.

Fera already plays an important role in the food industry and I want to make sure that Fera can take advantage of this growing, global market place.
By asking the market for their views on a joint venture I am confident that we can find an option that protects our scientific capability while also giving the business long-term security.
Fera Chief Executive, Adrian Belton, said:
Fera's vision is to be a leading supplier of scientific solutions, evidence and advice across the Agri-Food supply chain.

With government budgets facing on-going reductions it is imperative that we take action now to examine options which will help protect and enhance Fera's renowned scientific capability. Joining with the right partner could provide Fera and its high quality staff with new opportunities to develop and expand this capability.
Businesses interested in finding out more should go to Defra's tendering website. The Prior Information Notice (PDF, 41KB, 11 pages) gives more detail about the possible commercial model for Fera and allows businesses to register interest.
Published 8 November 2013
Last updated 8 November 2013
+ show all updates
Added (temporarily) a copy of the Prior Information Notice.

First published.