First businesses to benefit from DVSA transport scheme announced
Thirty businesses and public sector organisations are now benefiting from the Driver and Vehicle Standards Agency (DVSA) earned recognition pilot.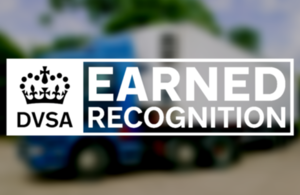 John Lewis, Sainsbury's and a district council are among 30 organisations to start benefiting from a new way of recognising safe and responsible vehicle operators.
DVSA earned recognition for vehicle operators is a new way for organisations with lorries, buses and coaches to prove they meet driver and vehicle standards.
They'll regularly share performance information with DVSA, such as their MOT initial pass rates and if their drivers have broken drivers' hours rules.
In return, their vehicles are less likely to be stopped for roadside inspections. DVSA will still stop vehicles if they're in an obviously dangerous condition.
Targeting those likely to be a danger to your safety
From today (31 January 2018), vehicle operators taking part in a pilot of the scheme will no longer have their vehicles routinely stopped at the roadside by DVSA.
This will let DVSA target its inspections and roadside checks at drivers and vehicles most likely to be a danger to your safety.
Household names, local businesses and a local council
The 30 private and public sector organisations on the pilot are responsible for over 6,000 lorries, buses or coaches.
The organisations include:
British Telecommunications
the City of Wakefield metropolitan district council
CT Plus - a social enterprise
DPD Group
John Lewis
Sainsbury's
They're all different sizes - the smallest having 2 vehicles, with the largest having more than 3,500 vehicles.
Helping responsible businesses
The scheme is being designed to help safe and responsible businesses go about their business unhindered, which will save them time and money.
It also means DVSA can spend more time taking unsafe drivers and vehicles off our roads.
There's still time for operators to join the pilot
Vehicle operators can apply to join the DVSA earned recognition pilot until 28 February 2018. Those applying to join the pilot will get extra help through the application process.
All the benefits of the full scheme
The full scheme is expected to launch later in 2018.
When it's launched, vehicle operators who have joined will be able to:
prove they're an exemplary operator, which can help when they bid for contracts, and raise their profile with potential customers
use the DVSA earned recognition marque in their marketing and publicity, showing they're serious about road safety
have their details shown on GOV.UK, so people know they've achieved the high standards needed to join the scheme
get access to a dedicated DVSA earned recognition team to discuss issues and ideas to help their business
Their vehicles will continue to be less likely to be stopped at the roadside for checks.
Protecting you from unsafe drivers and vehicles
DVSA Chief Executive, Gareth Llewellyn, said:
DVSA's priority is to protect you from unsafe drivers and vehicles.

This pilot is allowing the best operators to go about their business unhindered, so we can target our activity at those most likely to be a danger to all road users.

I would like to thank everyone who has helped us develop the pilot to the point where operators are starting to feel the benefits.
Published 31 January 2018