Press release
FCO Minister welcomes outcome of Presidential election in Mali
FCO Africa Minister congratulates Ibrahim Boubacar Keita on his victory in transparent and inclusive Presidential elections in Mali.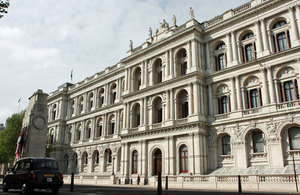 Commenting on the Presidential elections in Mali, Foreign Office Minister for Africa, Mark Simmonds said:
I congratulate Ibrahim Boubacar Keita on his victory in the Presidential elections in Mali. I hope that he can be a true representative and voice for all Malians, and will take the necessary steps to ensure broader political progress in Mali, particularly on dialogue and reconciliation. This will be critical as Mali moves forward on the path towards long-term stability and development.

It is a great credit to all those in Mali that the elections took place in an open, transparent and inclusive environment. The high turnout for these elections was encouraging, and clearly demonstrates the enthusiasm and will of the Malian people for a return to representative and democratic government. I commend the Malian people, political parties, presidential candidates and Malian civil society on the largely peaceful environment in which the elections were held.

The traumatic events of the last 18 months have been deeply damaging to the fabric of Malian society. The new government will need to address the causes of these events to ensure they are not repeated. The UK, alongside the rest of the international community, stands ready to assist the government as it begins work on the many challenges ahead.

Looking forward, I urge the new Malian government to continue the return to full democratic governance by setting an early date for legislative elections.
Further information
Follow Foreign Office Minister Mark Simmonds on twitter @MarkJSimmonds
Follow the Foreign Office on twitter @foreignoffice
Follow the Foreign Office on facebook and Google+
Published 13 August 2013