Press release
FCO Minister meets Kenyan Cabinet Secretary for Foreign Affairs
Foreign Office Minister for Africa, Mark Simmonds, met Kenyan Cabinet Secretary, Amina Mohamed, today at the Foreign Office.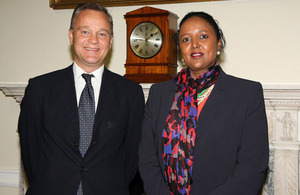 Speaking after the meeting Mark Simmonds said:
I was pleased to welcome Cabinet Secretary Mohamed to London today. We had a very constructive and cordial meeting which covered a range of important bilateral and regional issues. I reiterated my sincere condolences on the recent terrorist attacks at the Westgate shopping centre in Nairobi and stressed the United Kingdom's continued solidarity with the Kenyan Government in addressing the threats to the region from terrorism and instability. I also took the opportunity to discuss the recent African Summit declaration on the International Criminal Court (ICC) and welcomed President Kenyatta's and Deputy President Ruto's continued commitment to fulfil their international legal obligations to cooperate with the ICC.
Further information
Follow Foreign Office Minister Mark Simmonds on twitter @MarkJSimmonds
Follow the Foreign Office on twitter @foreignoffice
Follow the Foreign Office on facebook and Google+
Published 18 October 2013