Press release
FCO Minister Mark Simmonds welcomes Mali peace agreement
Mark Simmonds has welcomed yesterday's peace accord in Mali and its potential to help build long-term peace and security in the region.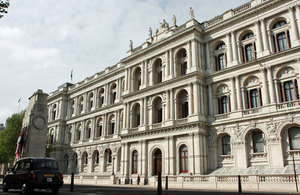 Speaking today, Foreign Office Minister for Africa Mark Simmonds said:
I welcome the announcement of the peace agreement signed in Ouagadougou last night between the Malian transitional authorities and groups representing communities in northern Mali, the National Movement for the Liberation of the Azawad (MNLA) and High Council for the Unity of the Azawad. This agreement paves the way for more inclusive governance in Mali which will help build long-term peace and security in the region.

The agreement institutes a cease-fire and commits the signatories to working closely together to deliver successful and inclusive national presidential elections in July. In the longer term, it offers a basis for a comprehensive dialogue on a range of issues to build peace and stability, whilst respecting the country's territorial integrity.

I call on all signatories to engage rapidly and in good faith to implement the contents of this agreement and to abide by its provisions. I urge all other armed groups in northern Mali that have no connections with terrorist and criminal groups to join this agreement, and to engage with the ongoing reconciliation process, including through the work of the National Commission on Dialogue and Reconciliation. I would like to thank the international mediators, and particularly the government of Burkina Faso, for their efforts in supporting these negotiations.
Further information
Follow Foreign Office Minister Mark Simmonds on twitter @MarkJSimmonds
Follow the Foreign Office on twitter @foreignoffice
Follow the Foreign Office on facebook and Google+
Subscribe to the announcements feed or email alerts to get our latest news and announcements.
Published 19 June 2013