Press release
FCO Minister condemns bomb attack in Somalia
FCO Minister Mark Simmonds comments on the bomb attack in Mogadishu on 1 January.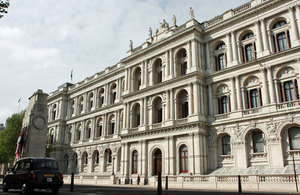 The attack at the Jazeera Hotel killed 11 and injured many others.
Mark Simmonds said:
The British Government unreservedly condemns yesterday's bomb attack on the Jazeera Hotel in Mogadishu. My thoughts are with the families of the victims and those injured. This attack and those like it, such as last week's attack on the restaurant in Mogadishu, only strengthens our determination to work with the Somali people in their efforts to build a secure and stable future.
Further information
Follow Foreign Office Minister Mark Simmonds on twitter @MarkJSimmonds
Follow the Foreign Office on twitter @foreignoffice
Follow the Foreign Office on facebook and Google+
Published 2 January 2014