Press release
FCO Minister condemns bomb attack in Abuja, Nigeria
FCO Minister for Africa, Mark Simmonds, condemns bomb attack in Abuja and offers continued UK support for Nigeria.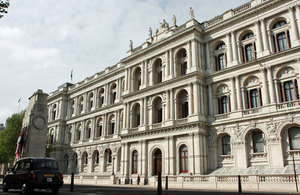 FCO Minister for Africa, Mark Simmonds, said:
I was horrified to learn of another bomb attack on the eastern outskirts of Abuja, Nigeria which has killed at least 16 people and injured many more. Although no group has claimed responsibility, the attack seems likely to be a further act of violence by Boko Haram. I condemn utterly this disgusting and cowardly attack and offer my condolences to those affected.
We will continue to support the Government of Nigeria as it seeks to prevent further attacks and bring those responsible to justice.
Further information
Follow Foreign Office Minister Mark Simmonds on twitter @MarkJSimmonds
Follow the Foreign Office on twitter @foreignoffice
Follow the Foreign Office on facebook and Google+
Published 2 May 2014