Press release
FCO Minister condemns attack at a mosque in Nigeria
FCO Minister Mark Simmonds condemns senseless killings of worshippers at a mosque in Nigeria and offers condolences to all those affected.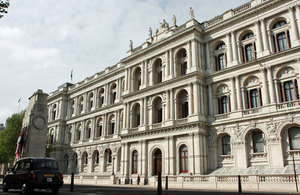 Foreign Office Minister for Africa Mark Simmonds has commented today on an attack at a mosque in north east Nigeria. Mr Simmonds said:
I strongly condemn the attack on worshippers in a mosque in Borno state, Nigeria, that took place on Sunday. This senseless attack has reportedly killed 44 people and left many others injured. Attacking innocent people in a place of worship is a contemptible and cowardly act. My thoughts are with all those who were caught up in the attack, and their families. The UK stands with the government and people of Nigeria as they seek to reduce violence in the north east of the country.
Further information
Follow Foreign Office Minister Mark Simmonds on twitter @MarkJSimmonds
Follow the Foreign Office on twitter @foreignoffice
Follow the Foreign Office on facebook and Google+
Published 13 August 2013