Press release
FCO Minister concerned at fighting in Democratic Republic of Congo
Minister for Africa, Mark Simmonds calls for restraint following renewed violence in North Kivu, Democratic Republic of Congo.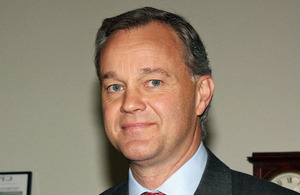 Mark Simmonds, said:
I am extremely concerned that fighting in North Kivu, Democratic Republic of Congo, has resumed and seems to be escalating. A return to violence will have a devastating impact on the people of eastern DRC. The regionally-led Expanded Joint Verification Mechanism has been asked to investigate events. I urge all sides to show restraint. I commend the work of the UN's Special Representative, Martin Kobler and urge all parties to work in support of MONUSCO in fulfilling its vital mandate in eastern DRC.

Now is the time for all those involved in the Kampala Peace Talks to make a final and decisive push for a sustainable conclusion. This must include the M23 ending its renewed violence and committing to working for a peaceful solution. The focus can then rightly return to implementing the Peace and Security Comprehensive Framework. I also urge the region's leaders to fulfil their commitments and to continue to work together to end the conflict that has blighted the region for too long. The UK will continue to work with the region and international partners to help find a lasting solution.
Further information
Follow Foreign Office Minister Mark Simmonds on twitter @MarkJSimmonds
Follow the Foreign Office on twitter @foreignoffice
Follow the Foreign Office on facebook and Google+
Published 26 October 2013