Press release
FCO Minister calls on Iran to improve human rights
Foreign Office Minister Hugh Robertson welcomes adoption of UN resolution on human rights situation in Iran.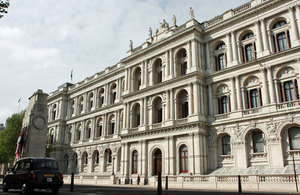 Mr Robertson said:
I welcome yesterday's adoption of the resolution on the human rights situation in Iran by the Third Committee of the UN General Assembly. This is the tenth consecutive year that the Third Committee has passed a resolution in support of human rights in Iran and is a clear statement by the international community that the situation in Iran remains unacceptable.
At least 270 people have been officially executed in 2013 and the persecution of religious and ethnic minorities continues. Iran reportedly has more journalists in prison than any other country in the world. Despite some recent positive steps taken by Iran since President Rouhani's election, such as the release of a number of political prisoners on 18 September, many political activists remain imprisoned. The two main opposition leaders have now spent over 1000 days under house arrest or in detention.
I welcome President Rouhani's pledges to address some of Iran's serious human rights issues but only real action can make a difference. The UK will continue to call on Iran to live up to its international obligations and improve the human rights of all of its citizens.
Further information
Follow Foreign Office Minister Hugh Robertson on twitter @HughRobertsonMP,
Follow the Foreign Office on twitter, facebook & google+.
Published 20 November 2013