Press release
FCO Minister calls for swift progress on Maldives elections
FCO Minister of State Hugo Swire calls for elections in Maldives to move forward quickly and warns against further delays.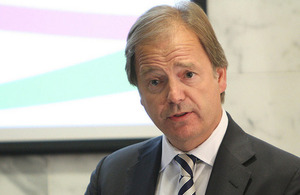 Speaking today the Right Honourable Hugo Swire MP said:
Maldivians have today again shown their commitment to democracy. It is important that the next round of elections now moves forward quickly as previously agreed by the parties and in line with the directions of the Elections Commission so that the people of the Maldives can have a Government of their choosing. Further delays would only create uncertainty in the constitutional situation and risk instability damaging to Maldives' international reputation.
Further information
Follow Foreign Office on Twitter, Facebook and Google+
Follow FCO Minister Hugo Swire on Twitter @HugoSwire
Published 9 November 2013