News story
FCO endorses Yemeni call for investigation into weapons shipment
UK endorses calls by Yemeni Government for an investigation by the UN Iran sanctions committee into weapons shipment to Yemen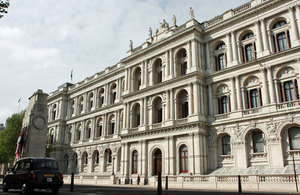 On 23 January, the Yemeni Government seized a shipment of weapons off the Yemeni coast. President Hadi has recently called on the United Nations to investigate.
Commenting today, a FCO spokesperson said:
"We fully endorse President Hadi's call for a UN investigation into the consignment of weapons, including portable anti-aircraft missiles and explosives, captured off the Yemen coast on 23 January. Preliminary investigations suggest the weapons originated in Iran.
"If confirmed, this would be a direct contravention of UN Security Resolution 1747, which prohibits the export of weapons by Iran. Such activity is detrimental to the security of the entire region. We urge Iran to comply with its international obligations and ensure that the ban on the export of arms is adhered to. We call on the UN Iran sanctions committee to investigate the case as a matter of urgency."
Further information
Read our policy on countering weapons proliferation
Published 15 February 2013