Press release
FCO congratulates people of Maldives for commitment to democracy
Foreign Office Minister of State Hugo Swire welcomes completion of Maldives presidential elections.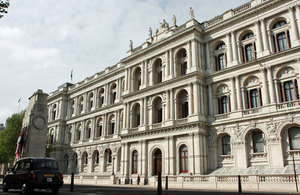 Speaking earlier today, Hugo Swire said:
I congratulate the people of the Maldives for showing their commitment to democracy, as evidenced by the very high turnout in the presidential election.

I urge the new government and the opposition to work together constructively in the interests of all Maldivians and to avoid any acts of recrimination or retribution.

It is important that the forthcoming local and parliamentary elections go ahead in line with work of the Elections Commission and are not subject to the delay and legal interventions that marred the presidential elections.

The UK looks forward to working with the new government.
Further information
Follow Foreign Office Minister Hugo Swire on twitter @HugoSwire
Follow the Foreign Office on twitter @foreignoffice
Follow the Foreign Office on facebook and Google+
Published 18 November 2013