News story
Farmers get everything they need to start 2015 BPS claim
Further support available to help farmers claim for the Basic Payment Scheme 2015.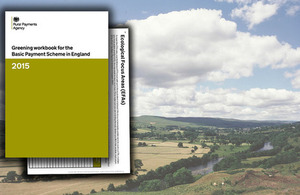 The Rural Payments Agency (RPA) has now sent out nearly 68,000 pre-populated application forms for the Basic Payment Scheme (BPS) 2015. This means that the vast majority of farmers across England who have already registered on the Rural Payments system have everything they need to make a claim.
The RPA will also be sending 12,500 pre-populated application forms by post to customers known to the Agency who have not registered.
Some 2,800 completed applications have been submitted to the RPA within the first week of the Agency beginning to send out forms to farmers and their agents. This is in line with what the RPA has experienced in previous SPS claim windows.
Support centres
Help is available for farmers and agents at 50 support centres across England. A map showing details of locations and opening times can be found on GOV.UK.
Farmers and agents can drop off their completed application forms and get a basic check of their application at any support centre. The check will ensure claimants have included their Single Business Identifier (SBI) number, land data, filled in the active farmer section and signed the declaration. Everyone submitting their claim at a support centre will receive a receipt.
Farmers who still need help to register, and agents with more than five claims, should call the Rural Payments helpline on 03000 200 301 to book an appointment at a support centre in order to receive more tailored help.
The RPA has also published a guide to shows and events where the RPA will be on hand to give support, plus a Greening Workbook. The workbook will help farmers when they are working out their greening while doing their claim. It is available, along with all BPS guidance, at: GOV.UK/rpa/bps.
Pre-populated forms
Farmers who have not yet registered on the Rural Payments online system will be sent a pre-populated form by post, but they still need to register. The RPA is also mailing out pre-populated claim forms to those farmers who registered using an email address which proved invalid or bounced back to sender.
Farmers and agents who haven't received their pre-populated forms by 30 April should call the Rural Payments helpline on 03000 200 301.
Environmental Stewardship guidance
In line with BPS, farmers and land managers who need to make a claim under existing agri-environment or woodland grant schemes must do so by 15 June 2015.
Forestry Commission England has already issued an email alert outlining how to claim under legacy woodland schemes. It has also provided updates on the Woodland Capital Grant 2015 and is currently writing to all English Woodland Grant Scheme and Farm Woodland Premium Scheme customers with a claim form.
Natural England has also published additional guidance for Environmental Stewardship customers who need to submit their annual claim forms.
Published 21 April 2015