News story
Farmers and agents begin transferring land and entitlements for 2016 Basic Payment Scheme
Thousands of farmers and agents start using Rural Payments service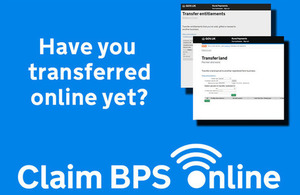 Thousands of farmers and agents have started their 2016 Basic Payment Scheme (BPS) claims using the Rural Payments service, within days of the refreshed online application service becoming available.
The Rural Payments Agency (RPA) reports that in the past 48 hours some 2,200 BPS entitlements and over 5,500 hectares of land have been transferred using the service as several thousand people logged on.
All farmers and agents planning to make a claim are encouraged to use the service now to check their personal and business information, refresh their password, if needed, and give people permission to act on their behalf.
RPA Chief Executive Mark Grimshaw said:
It is worth farmers and agents taking time now to access the online application service, become familiar with the new features and ensure important details such as their email, are up to date.

Transferring land and entitlements online now means the information should be updated in time to show on their 2016 BPS online application available around mid-March.
It is important to have a full and accurate email address on the Rural Payments service as this is how the RPA will be keeping applicants informed.
Support available from the RPA
All the latest information on how to apply for BPS 2016 online can be found at GOV.UK/rpa/bps2016. This includes the 2016 scheme rules and a handy guide of all the onscreen 'help' which explains how to view and transfer entitlements and transfer land. This is available on GOV.UK and can be printed.
Further support is available from RPA this year through useful 'How to' videos. Farmers and agents can find step-by-step guides on transferring land, transferring entitlements and a general overview of how to apply online.
The deadline for BPS 2016 applications is midnight on 16 May 2016.
Published 9 March 2016