Press release
Extra UK aid to get food into Gaza
The UK has announced £3 million in new funding so the World Food Programme can get emergency food to more than 300,000 people in Gaza.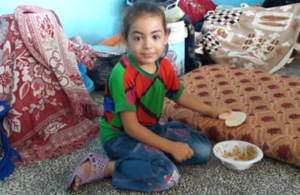 The UK is stepping up its humanitarian response to the Gaza crisis with an additional £3 million for the World Food Programme's emergency appeal to help deal with food shortages, Prime Minister David Cameron announced today.
This £3 million boost will provide emergency food for more than 300,000 people for one month.
This latest support from the UK brings to £10 million the amount released to help Gaza since the latest crisis began.
International Development Secretary Justine Greening said:
After more than 3 weeks of fighting, the death toll in Gaza is rising and more than 200,000 people, many of them children, have been displaced from their homes. We urgently need to stop the bloodshed: we continue to call for an unconditional and immediate humanitarian ceasefire to prevent any more needless suffering.

The situation in Gaza is dire. The UK is helping to meet immediate needs, including with this latest contribution of £3 million which will get food to hundreds of thousands of vulnerable people.

All sides must adhere to International Humanitarian Law, all feasible precautions must be taken to avoid harm to civilians, and all sides must allow aid agencies unimpeded access to get to those in desperate need.
Displacement of families from their homes is a huge problem that is affecting more than 200,000 people at the latest count. This has a significant impact on all aspects of day-to-day life as people rely on UN shelters and aid agencies for all their needs.
Access to food is an increasing issue of concern in Gaza. The latest reports from the UN show that food shortages are being reported in Gaza, with sharp increases in the prices of certain products.
To address the humanitarian needs in Gaza the UK government is pushing for better humanitarian access so that aid agencies can get supplies and personnel into and out of Gaza and a sustainable political solution, which must include the gradual lifting of the economic restrictions.
The UK is the third biggest donor to UNRWA's General Fund, contributing £107 million between 2011 and 2015. UNRWA is a crucial service provider to the 70 per cent of the Gazan population who are Palestinian refugees. Our support is enabling UNRWA to continue providing basic health services during this conflict through 19 of its 21 clinics.
Notes to editors
More than 1,000 Palestinians have been killed. On the Israeli side, more than 50 have been killed including two civilians.

The UK has now made a total of £10 million in funding available to support Gaza since the start of this most recent crisis. Before the £3 million for WFP announced today, the UK had already contributed £4 million to UNRWA's flash appeal for basic shelter, blankets, hygiene kits, nappies and other vital help for tens of thousands of people forced to flee their homes. It had also brought forward £3 million of International Committee of the Red Cross (ICRC) support.

This £10 million builds on our existing support for Gaza. The UK spends around £30 million each year in Gaza.
General media queries
Follow the DFID Media office on Twitter - @DFID_Press
Published 30 July 2014