Press release
Extension to CMA retail banking market investigation
The CMA expects to extend the timetable for its investigation into the retail banking market.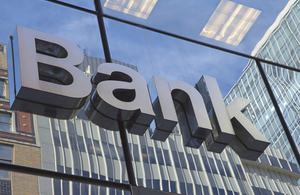 The Competition and Markets Authority (CMA) will decide on the extension and its length by early March, when it will set out the timetable for publication of the final report and key milestones, including the provisional decision on remedies, which will not now be published during February.
In addition a working paper on the bank levy and corporation tax surcharge will be published by the end of February followed, by the end of March, by an addendum to our provisional findings on capital requirements – following work to understand how differences in capital requirements for mortgage lending affect competition in retail banking.
Alasdair Smith, Chairman of the retail banking investigation, said:
Retail banking affects nearly every business and consumer in the UK, so this investigation and the measures that result from it are of vital importance to the whole economy.

Our provisional findings identified a number of competition problems in both personal current account and small and medium-sized enterprise banking.

We published an initial list of possible remedies, and we are pleased that the consultation has generated a lively debate about how best to tackle the problems we have identified.

A number of new suggestions have been made, including proposals aimed at achieving better outcomes for current account customers with overdrafts and the CMA wants to ensure that there is enough time to hear from interested parties and consider the options properly.

We therefore expect that an extension will be necessary to give us a bit more time for analysis and consultation.

However, we remain committed to concluding this investigation as quickly and efficiently as possible.
Notes for editors
The CMA is the UK's primary competition and consumer authority. It is an independent non-ministerial government department with responsibility for carrying out investigations into mergers, markets and the regulated industries and enforcing competition and consumer law. From 1 April 2014 it took over the functions of the Competition Commission and the competition and certain consumer functions of the Office of Fair Trading, as amended by the Enterprise and Regulatory Reform Act 2013. For more information see the CMA's homepage on GOV.UK.
The CMA can extend its statutory deadline once and by no more than 6 months if it considers there are special reasons for doing so (section 137(2A) Enterprise Act 2002). This extension will come into force when the formal decision on the need for an extension and its length has been taken and a notice has been published under section 172(2)(za) Enterprise Act 2002. That notice will specify the length of the extension and the reasons for it.
The members of the retail banking market investigation are Alasdair Smith (Chairman), Philip Marsden, Thomas Hoehn, Jill May, and Ed Smith.
All information relating to the investigation is available on the retail banking case page.
In its investigation, the CMA is required to decide whether 'any feature, or combination of features, of each relevant market prevents, restricts or distorts competition in connection with the supply or acquisition of any goods or services in the United Kingdom or a part of the United Kingdom'. If so, then there is an adverse effect on competition. The CMA will then decide whether it should introduce remedies to tackle the adverse effect on competition or detrimental effect on customers so far as it has resulted from, or may be expected to result from, that adverse effect on competition, or whether it should recommend action be taken by other bodies to remedy the adverse effects on competition or detrimental effect on customers, and if so, what action should be taken. A detrimental effect on customers can be in the form of higher prices, lower quality, less choice of goods or services or less innovation in relation to such goods or services. If the CMA finds that there is no adverse effect on competition, the question of remedies will not arise.
For CMA updates, follow us on Twitter @CMAgovuk, Flickr and LinkedIn. Sign up to our email alerts to receive updates on markets cases.
Enquiries should be directed to Kasia Reardon (kasia.reardon@cma.gsi.gov.uk, 020 3738 6901) or Simon Belgard (simon.belgard@cma.gsi.gov.uk, 020 3738 6472).
Published 29 January 2016