News story
Exporting NHS innovation at NHS Expo 2017
Healthcare UK raising the profile and appeal of exporting healthcare services overseas.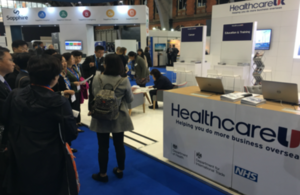 At the recent NHS Health and Care Innovation Expo 17 in Manchester, Healthcare UK powerfully raised the profile and appeal of exporting for UK healthcare organisations.
Through the event's stand-out exhibition stand and a rich programme of well attended events, the team engaged with over 5,000 attendees from the UK, and the 52 overseas delegates from 7 countries hosted by the UK government.
Demystifying the barriers behind exporting healthcare services overseas
NHS Expo is the UK's largest health trade show. It is a unique celebration of innovation, enterprise and collaboration, bringing together NHS and care leaders, commissioners, clinicians and private sector partners. A strong programme of Healthcare UK events included a Ministerial roundtable bringing together leading suppliers with Lord O' Shaughnessy, Parliamentary Under Secretary of State at the Department of Health. The conversations focussed on the key challenges of building capabilities, capacity, and a wider awareness of the export opportunities available. The group considered new ways to make the international journey of suppliers as easy, painless, risk free and simple as possible.
Exporting innovation to overseas markets
A packed seminar session on exporting NHS innovation was introduced and chaired by Noel Gordon, Chair of NHS Digital and Chair of the Healthcare UK Advisory Board. The importance of innovation as a driver for the strong reputation of the NHS, and how attractive this is to healthcare systems in other parts of the world, was emphasised by Lord O' Shaughnessy:
We continue to take huge innovative strides in a wide number of areas. Look at the concept of integrated care, where we are bringing together primary care, social care, elderly care and mental health in an innovative and holistic approach designed to improve the quality and efficiency of healthcare. We are also at the cutting-edge of innovation in digital health.
The innovating in the NHS theme was echoed by NHS Chairman Sir Malcolm Grant as he shared his recent experience of participating in healthcare export missions to India and China.
Deborah Kobewka, Healthcare UK's managing director, spoke about the size of the export opportunity for NHS Trusts, and how Healthcare UK is helping organisations to benefit from this income stream:
Since it's start up in 2013, Healthcare UK has successfully supported 117 UK healthcare organisations to do business in 19 countries.
Claire Riley, Director of Communications and Corporate Affairs at Northumbria Healthcare NHS Foundation Trust, talked about her organisation's success in exporting to Ghana, China and the Middle East and how this has been achieved.
Healthcare UK also delivered sessions on:
how Healthcare UK and NHS Improvement can help you strengthen your exporting capabilities, domestically and overseas; with case studies presented by Allison Joynson of Northumbria Healthcare NHS Foundation Trust, Murray Cochrane and Ian White of NHS Improvement and Dave Tarbet of Royal Devon and Exeter Foundation Trust
cultural considerations for UK healthcare organisations when operating in overseas markets, with examples drawn from export experience in China, India, the Middle East, Brazil and Mexico
the benefits of international partnerships and how international solutions can help solve local problems, and how local solutions can meet international need, joint with the Academic Health Science Networks from Wessex, Yorkshire and Humber, Imperial, and University College London
Showcasing the NHS to overseas delegates
Overseas delegates saw the very best of healthcare provision with visits to NHS facilities at The Christie, the Royal Blackburn and the Central Manchester Foundation Trust. The objective of these visits was to put overseas buyers in direct contact with NHS trusts they are looking to do business with, and to experience first-hand some of the innovative practices being delivered to patients by the NHS.
Published 15 September 2017