News story
Explosives and weapons detection: apply for innovation funding
Innovative organisations can apply for a share of up to £3 million to develop new ways of detecting explosives and weapons.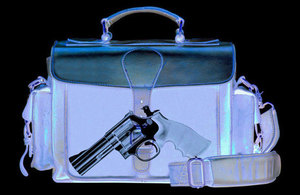 The Innovative Research Call (IRC) 2016 for Explosives and Weapons Detection is to invest up to £3 million in research projects.
Projects can develop original ideas. They can also adapt successful technologies, techniques or processes from other fields.
You could apply with a proposal in the following areas:
buildings and areas
goods
people and/or their possessions
vehicles
This is a Small Business Research Initiative (SBRI) competition run in partnership with Innovate UK.
The government partners for this competition are:
The competition has 2 phases:
Phase 1 - proof of concept
Up to £1 million is available. Projects should last up to 6 months with total costs of up to £60,000.
Phase 2 - development contacts
Up to £2 million is available. Projects should last up to 2 years.
Competition information
This competition opens on Monday 12 September 2016
The registration deadline is noon on Wednesday 12 October 2016
The application deadline is noon on Wednesday 19 October 2016
There will be a bidders' conference for potential applicants in London on Tuesday 27 September 2016
Published 30 August 2016