Press release
Eric Pickles urges people of England to fly flags to celebrate their pride and identity
The Secretary of State called on the people of England to come together and fly their nation's flag with pride.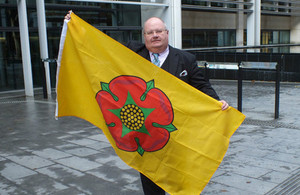 Communities Secretary Eric Pickles today (27 November 2014) reaffirmed the government's drive to encourage communities in Britain to come together and fly flags to celebrate their local and national pride and identity.
The Secretary of State called on the people of England to fly their nation's flag with pride. Ministers have previously changed the law to make it easier to fly flags without a permit from the council.
Mr Pickles was speaking as he raised the flag of Lancashire outside his department's headquarters to celebrate Lancashire Day, which marks the day in 1295 when Lancashire sent its first representatives to Parliament.
This is the latest in a 4-year campaign, which has seen the flags of communities big and small hoisted in the heart of government. From St Anne's on Sea, a small seaside town in Lancashire, to the largest county of them all, Yorkshire.
The campaign has seen the St George's flag of England flown with pride above the Department for Communities and Local Government. In June, the Secretary of State also raised the flag of the mighty Three Lions to signal support for the England football team as the World Cup kicked off in Brazil, while the flags of the Falklands and Jersey have been flown to mark their independence from Argentine and Nazi occupation respectively.
Meanwhile, the flags of many historic, traditional and existing counties, including the likes of Middlesex, Westmorland and Cornwall, have also taken pride of place up the departmental flagpole this year.
This government is championing local communities continuing to cherish and celebrate such traditional ties and community spirit.
Secretary of State for Communities and Local Government, Eric Pickles, said:
Whatever one's class, colour or creed, flags like the St George's and the Union flag are unifying symbols for our nation. We should also champion the great diversity of local flags. Let's fly them all with pride, because this sense of shared identity is one of the things that binds communities together.

This country has witnessed a surge in flag flying in recent years. From the Olympics and Tour de France to the Royal Wedding and Diamond Jubilee, flags have been flown with passion and pride. We changed the law so communities can fly their local flags without planning permission, and I have championed this by hoisting a spectacular range of them in the heart of Whitehall.

Flying a flag should be a pleasure not a chore. Despite being a proud Yorkshireman, I can still take pride in seeing the red rose of Lancashire flying outside my department.
Further Information
This is part of a series of steps to champion England's national identities. Earlier this year, the department launched a new initiative to support the 'tapestry' of traditional English counties being displayed on street and road signs. The government also published a new online interactive map of England's county boundaries.
Planning rules have been changed to allow for councils to put up boundary signs marking traditional English counties – including the likes of Cumberland, Huntingdonshire, Westmorland and Middlesex. The government has proposed changes to highways regulations to allow traditional county names to appear on boundary road signs.
Office address and general enquiries
2 Marsham Street
London
SW1P 4DF
Contact form http://forms.communiti...
General enquiries: please use this number if you are a member of the public 030 3444 0000
Published 27 November 2014