Press release
Enterprise and Regulatory Reform Bill receives Royal Assent
The Enterprise and Regulatory Reform Bill today received Royal Assent.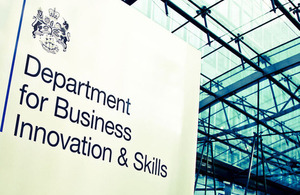 The Act will bring in a new regime giving shareholders more say on directors' pay, improve dispute resolution through reform of Employment Tribunals, establish the new Competition and Markets Authority and enshrine the aims of the Green Investment Bank.
Business Minister Jo Swinson said:
The measures in the Enterprise and Regulatory Reform Act will support the UK's enterprise culture and help make it one of best places to do business.
It will put in place fairer systems for directors' pay, create a world-class competition regime, support the Green Investment Bank and improve our employment system. This will help businesses to start up, grow and employ more people.
The Enterprise and Regulatory Reform Act passed by Parliament today aims to support long term growth through a range of measures which:
make sure there is a link between directors' pay and long-term company performance by giving shareholders of UK quoted companies binding votes on directors' pay. Shareholders will now have the power to hold companies to account and companies will need to listen to what they say;

create a better employment tribunal system by encouraging parties to come together to settle their dispute before an employment tribunal claim is lodged, through Advisory, Conciliation and Arbitration Services' (Acas) early conciliation and greater use of settlement agreements;

close a loophole in whistleblowing protections which will only allow individuals to whistleblow in matters of public interest. This prevents workers from making a whistleblowing claim at an employment tribunal for purely private matters such as problems with their own individual contract. It will also introduce greater protection for individuals from harassment when they blow the whistle at work;

establish a new Competition and Markets Authority, bringing together the competition functions of the Office of Fair Trading and the Competition Commission. This will be the UK's lead competition authority with wide ranging powers to tackle anti-competitive behaviour, and a faster, clearer and more effective approach to help make markets work well for consumers. The competition regime will sustain fair and dynamic markets, encouraging businesses to set up and invest in the UK;

take forward a number of measures announced through the government's Red Tape Challenge, including changes so that in future civil claims for breach of health and safety duties can only be brought where it can be proved an employer has been negligent. It also establishes the principle that an employer should always have the opportunity, even where a strict duty applies, to defend themselves on the basis of having taken all reasonable steps to protect their employees;

modernise the UK's copyright regime to promote innovation in the design industry, encouraging investment in new products while strengthening copyright protections. Creating a level playing field for collecting societies and the thousands of small businesses and organisations who deal with them by strengthening the existing regulatory regime. For the first time orphan works will be licensed for use; these are copyrighted works for which the owner of the copyright is unknown or can't be found. There will also be a system for extended collective licensing of copyright works;

enshrine the goals and independence of the UK Green Investment Bank in law, making sure in the longer term that it will always focus solely on the green economy. It also gives government a new power to finance the Bank with initial funding of £3 billion to March 2015. These measures will help the Bank to mobilise long-term private investment in the UK's transition to a greener economy; and

create a power to give consumers the right to view and download the data businesses hold on them in an electronic format. This will help stimulate developers to create new data management tools and services;

simplify regulation through reduced inspection burdens; repeal unnecessary laws and time-limit new laws so that there are only ever relevant and necessary laws in place and extend the Primary Authority Scheme to provide consistent regulatory advice to thousands more small firms.
The Act has also been a vehicle for a wide range of repeals and reforms to existing law.
Notes for editors
The Bill was introduced to the House of Commons on 23 May 2012, and completed its passage on 24 April 2013.
The Bill was also the vehicle for implementing some of the Red Tape Challenge reforms see the website for further details. Many other Red Tape Challenge reforms are being implemented by Statutory Instrument or administrative measures.
The provisions which come into force on Royal Assent today are:

A power to include review and sunset provisions in secondary legislation, which streamlines implementation of the government policy on such provisions first published in March 2011.
A prohibition on Acas disclosing specified information except in certain defined circumstances such as criminal investigation.
All the order-making powers (that is power to make provisions by means of secondary legislation) come into force, which means that they are available to be exercised. This does not necessarily mean they will be used, as some are reserve powers, to be used only if certain circumstances arise.
A requirement that certain Royal Charters can only be changed when the arrangements for amending them - as laid out in the Charter - require the approval of Parliament and have been met. It affects those Royal Charters with functions relating to the carrying on of an industry and made after 1 March 2013.

Further provisions will come into force on 25 June namely:

The provisions on the UK Green Investment Bank (Part 1).
Certain provisions on employment (Part 2) as follows:

Ensuring that the 2 year qualification period for employment will not apply where the main reason for dismissal is the employee's political opinions or affiliation.
Simplifying the procedures and costs of deciding tribunal cases
New provisions on whistleblowing

Certain provisions to make the heritage protection system work more effectively as follows:

Enabling the extent of a listed building's special interest to be legally defined
Enabling a Certificate of Immunity from listing to be applied for at any time
Removing current restrictions on the use of a wing of Osborne House, on the Isle of Wight

Certain other repeals:

Abolition of the Agricultural Wages Board for England and Wales, (although the current Agricultural Wage Order will remain in place until 1st October 2013, and similarly applications to Agricultural Dwelling House Advisory Committees will be permitted until that date)

Removing the need for retailers to notify sales and hiring of television sets
Removal of an in-area trading ban which currently prevents water suppliers associated with regional water companies competing for multi-site contracts across England and Wales

Most other provisions are planned to come into effect in October 2013 or April 2014. A detailed implementation timetable will be published by BIS on the website shortly.
The government's economic policy objective is to achieve 'strong, sustainable and balanced growth that is more evenly shared across the country and between industries.' It set four ambitions in the Plan for growth, published at Budget 2011:

to create the most competitive tax system in the G20
to make the UK the best place in Europe to start, finance and grow a business
to encourage investment and exports as a route to a more balanced economy
to create a more educated workforce that is the most flexible in Europe.
Work is underway across government to achieve these ambitions, including progress on more than 250 measures as part of the Growth Review. Developing an Industrial Strategy gives new impetus to this work by providing businesses, investors and the public with more clarity about the long-term direction in which the government wants the economy to travel.
Published 25 April 2013