Press release
Ending Female Genital Mutilation: Cardiff group praised for campaign
Cardiff's leading campaigners against FGM have been praised for their role in ending the harmful practice.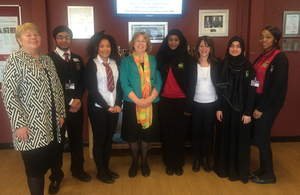 International Development Minister Baroness Northover, Home Office Minister Lynne Featherstone and Wales Office Minister Baroness Randerson have visited young people in Cardiff working with Bawso, a leading Welsh charity campaigning to end FGM.
The Ministers spoke to pupils and staff at Fitzalan High School about their work with Bawso to encourage awareness of this issue. Their visit was timed ahead of the International Day of Zero Tolerance for FGM on 6 February.
Baroness Northover said:
FGM is a violent and traumatising practice that damages the lives of millions of women and girls around the world.

Community groups like Cardiff's own Bawso are vital in the fight to end this practice and expose FGM for what it really is: violence against girls and women.

The UK Government has worked tirelessly in recent years bring this issue to the forefront of international attention. We now need more community groups to follow Cardiff's lead and kick-start campaigns to end this practice in Africa within a generation.
Lynne Featherstone said:
Female Genital Mutilation (FGM) is a crime and it is child abuse.

The Coalition Government has made great progress in tackling this harmful practice, and we recognise that in order to end FGM here in the UK, we must also tackle it internationally.

By working together with the Welsh Government, and local diaspora communities like those here in Cardiff, we can work with communities overseas towards ending FGM in our lifetime.
Baroness Randerson said:
A collaborative approach to eliminating FGM is needed in educating diaspora communities in Wales on its harmful effects. The UK Government needs to work with the Welsh Government, along with local community leaders, healthcare workers and charities, to relay messages to the communities concerned.
The work of organisations like Bawso is maintaining the momentum created by the Girl Summit 2014 and #YouthForChange, both of which were aimed at galvanising global commitment to end FGM and child, early and forced marriage.
Notes to editors
FGM is one of the most extreme manifestations of gender inequality, affecting 125 million girls and women across the world. It is violence against women and girls, a human rights violation that can result in a life time of physical, psychological and emotional suffering.
The UK Government is committed to playing a key role in leading the international community toward seeing an end to FGM/C worldwide within a generation. At the 2014 Girl Summit the government also strengthened its commitment to ending FGM/C in the UK alongside the work to support efforts overseas.
The Department for International Development's (DFID) 5-year £35 million programme supports three components i) the UN Joint Programme on FGM/C to work through grass-roots organisations to deliver targeted action with communities and at the national level to influence legislative and policy change in 17 countries, ii)The Girl Generation – a global social change campaign to support the Africa-led movement to end FGM, with dedicated efforts in 10 countries, and iii) a large programme of research to enhance understanding of how best to end the practice.
Together the three components of the programme seek to reduce the prevalence of FGM/C in 10 countries by up to 30% and contribute to an ultimate vision to end the practice in a single generation. The Girl Summit hosted by the UK government and UNICEF in June 2014 mobilised domestic and international efforts to end female genital mutilation and child, early and forced marriage within a generation. It resulted in over 470 governments, organisations and individuals signing a charter calling for an end to these practices. In advance of the summit, DFID hosted the #YouthForChange social media campaign to encourage young people to take action for girls' rights.
General media queries
Follow the DFID Media office on Twitter - @DFID_Press
Published 3 February 2015