Press release
Ending abuse of village green legislation will unlock growth and boost aspiration
Plans in the Growth Bill will ensure communities can develop land in their areas and no longer be overruled by an abuse of Town and Village Green legislation.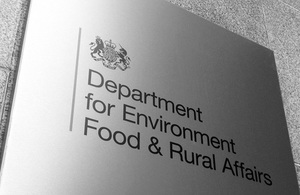 New plans in today's Growth Bill will ensure communities that wish to see land developed in their areas will no longer be overruled by an abuse of Town and Village Green legislation.
Current legislation means that building work that has been granted planning permission or is undergoing community consultation can be delayed while the legal process of considering a Town and Village Green (TVG) application takes place.  It is possible for houses to be built, bought and even lived in before a TVG application is made, leaving residents with great uncertainty as to the future of their homes.
Abuse of TVG legislation means that some communities have to wait for years to discover whether there will be new housing or job opportunities in their local area. In the right place, these developments are key to helping more aspiring people on to the housing ladder and giving businesses a better chance to grow.
Costs to taxpayers, land owners and local investors can run into millions of pounds while a TVG application goes through the courts.  The current legislation also serves as a disincentive to investment in areas which communities wish to see developed.
Environment Secretary Owen Paterson said:
"Town and village greens are cherished community spaces, and it's absolutely right they continue to have the strongest protection.
"Yet the system can be abused to stop developments like affordable housing from being built. We're stamping down on the abuse of this law that can effectively shut local communities out of deciding what development is right for them. This Government has a vital mission to support growth and spread aspiration, and these new plans will help that to happen."
Reform will protect local communities' ability to determine what development is appropriate in their areas by preventing TVG applications overriding decisions made following local consultation on plans.
The new approach will prevent TVG applications when an application for planning permission has been made or granted, and when land has been allocated for development by the local authority.
There are already well over 4,000 existing TVGs and they will retain full protection.  TVGs can continue to be registered where no development is either proposed or the subject of ongoing community consultation.
Under the plans, private landowners who wish to allow some public use of their land will now be able to do so without jeopardising its value or future development potential.  Currently, if a landowner does not challenge public use of his or her land for a period of twenty years, any future use for business, farming or development use may be ruled out by a TVG registration.
Financial savings from the changes are likely to run to many millions in the short term, and significantly more in the longer term.  This includes savings to local authorities, developers and landowners through cuts to legal fees, public enquiry costs and costs resulting from devaluation of land and delays.
Longer term financial benefits will arise from increased certainty around how local land will be used, social improvements and economic growth from jobs and development.
The reforms to the legislation are expected to come into force by summer 2013.
Notes to editors
Further information on the Town and Village Greens reforms can be found at: http://www.defra.gov.uk/rural/protected/greens/.
Town and Village Greens are the most protected landscape designation in England.  Legislation allows greens to be registered to secure them permanent protection as community spaces.
Historically, TVG applications were registered at a rate of around 60 per year, but in some years since 2000 this as risen to nearly 200, placing a significant burden on local authorities.  Many of the local authorities that assess the applications have an interest in the land in question, and as a result many applications need to be decided by a court.
Case studies where TVG delays have adversely affected the local community include (based on information sent to Defra as part of the consultation): * In Saham Toney, Norfolk, Hastoe Group built ten houses on a piece of land which had been farmed for centuries by a local family that wished the site to be used for affordable housing.  The use of the field for local housing had been consulted on and there had been an overall positive response from the local community.  After the homes had been built, a TVG application was lodged. Two and a half years later the housing residents, owners, and Hastoe are still awaiting an outcome, with the combined legal fees to Hastoe, the landowner and the taxpayer sitting at a reported £50k. * Warneford Meadow is an 8.5 hectare area of land in east Oxford. It was registered as a village green in April 2010.  The Friends of Warneford Meadow, which submitted the application, say that total cost of the process exceeded £0.5m, and possibly cost as much as £1m.  The owner has not been able to develop the land and the value of the land has plummeted from £11 million, now being valued at £500,000. * In Marsh Gibbon, a fifteen acre field had allegedly been farmed for 200 hundred years so was at no point being used, in the traditional sense, as a village green.  Nonetheless, the building of eight new houses was delayed by 2.5 years by a TVG application.  In February 2008, eight affordable homes received planning permission following community consultation on the proposed development.  In March 2008, when a building contract had been made, a local pressure group 'Keep it Green' applied to Buckinghamshire County Council (BCC) to have the site registered as a Village Green.  The matter was heard at a public inquiry which was eventually held in mid 2010.  The hearing lasted one day and the inspector found that the application failed to satisfy any of the tests set out in Section 15 of the Commons Act and therefore rejected the application - 2.5 years after the construction had been due to start.  Unrecoverable costs to Hastoe: £157,859; Unrecoverable costs to Ewelme Charity: (which owns the remainder of the field) £14,000 (circa); unrecoverable costs to Bucks County Council: £15,000; further unrecoverable costs to Hastoe if the application had been successful: £76,947. In addition to the above, if the application had been successful 10-12 construction jobs would have been lost along with homes that will house 26 local people.  In** Buxton, a **town and village green application held back the potential for the town's economic growth by frustrating plans for new employment land.  It also held up the development of new leisure facilities and 575 new homes.  High Peak Council spent a reported £100,000 in legal advice contesting the registration of a new green in the High Court.
The table below contains cost data submitted to Defra during the consultation.
Housing Association Site name
Length of delay
Estimated costs of direct costs
to project
Hastoe Housing Marsh Gibbon
2.5 years
£85,000
Eden HA Lark Lane Dev
2 years
£10,000
Arcadia Housing Smart's Green, S Glos
2 years
£70,000
Orwell Housing Flowton Road,Somersham
2 years
£70,000+
Housing Plus Silverdene, Penkridge
Over 2 years
Home Group Pontefract, Wakefield
2 years
£10,000
Sainsbury Mildenhall
1 year
£70,000+
Joseph Rowntree Housing Trust Derwent Thorpe, York
Colne Housing Heighbridge, Maldon
Since June'11/ongoing
£1.2m
North Norfolk District Council Holt, North Norfolk
2 years
£10,000
Impact Housing South Lakeland
3 years
£17,500
First Wessex Gosport
2 years
£5,000
Published 18 October 2012