End in sight after 'decades of dithering' as government steps in to help secure future for Stonehenge
Minister hails new Big Society approach to funding major capital projects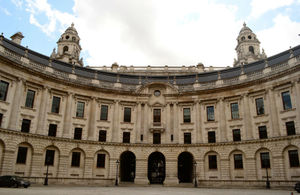 The long-awaited transformation of the Stonehenge landscape is finally within grasp, John Penrose, Minister for Tourism and Heritage said today, as government support was announced putting the project back on track.
The plans which will improve infrastructure and remove the current disfiguring visitor facilities from the vicinity of the stones have been given a huge boost following Government moves to help English Heritage secure a unique funding mix to achieve the project.
The funding package which mixes private philanthropy, lottery cash and commercial funding, has been supported by today's government announcement about English Heritage reserves and road improvements. 
In a move to cut red tape, John Penrose has confirmed that English Heritage will be allowed to access £2m of historic reserves raised from philanthropic sources, demonstrating the Government's commitment to philanthropic support for major cultural projects; and
Roads Minister Mike Penning has agreed funding of around £3.5 million will be made available for improvements to Highways Agency roads close to Stonehenge, subject to the completion of statutory processes and confirmed go-ahead of the Stonehenge improvements. This will provide increased capacity on a key roundabout near the site of the new visitor centre.
Speaking at Stonehenge today, John Penrose said:
"This is fantastic news for everyone involved in the project.  It is a real step forward in making sure this World Heritage Site - a unique and iconic symbol of our prehistoric past - is not simply preserved, but also presented in the best possible light for visitors in the future. Stonehenge is also an important draw for tourists from all over the world.  But for too long the way it has been presented to visitors has been woefully inadequate - decades of dithering and indecision have got us nowhere.  So it's only right - and long overdue - that new thinking and cooperation between parties come together to ensure the whole visitor experience is world-class too.
"It was bitterly disappointing when the country's dire financial state meant we had to withdraw government funding for the visitor centre here last June. But I - along with English Heritage and my colleagues across government - have been committed to finding other ways to support the project. The fact that we have now almost secured private funding is an example of the Big Society in action, with everyone working together to ensure a mix of funding solutions. 
"The plans announced today mean that a successful outcome for this project is now a lot closer.  There may still be a bit further to go, but we are optimistic English Heritage will be successful in securing the remaining funding that is required."
Mike Penning said:
"I fully recognise the importance of preserving this iconic heritage site and am delighted to help the Stonehenge improvements take an important step forward.
"I have agreed around £3.5 million funding to allow the Highways Agency to close the junction of the A303/A344 - improving the setting of one of the world's most popular ancient monuments and aiding its conservation. This is subject to successful completion of statutory processes to remove traffic from the Wiltshire Council controlled A344.
"The funding would also allow the HA to increase capacity on the A360/A303 at Longbarrow Crossroads which will help ease congestion around Stonehenge, including for those travelling to the new visitors' centre."
Dr Simon Thurley, Chief Executive of English Heritage said:
"These are crucial steps which bring closer the transformation of the currently blighted Stonehenge landscape. We are grateful to the government for their forthright support for this important project particularly at a time when money is so tight. We now need to secure the last permissions and raise the final elements of funding. I am confident that we will be able to do both in time to start work next year."
Notes to Editors
Access to reserves is restricted by government accounting rules. English Heritage and the national museums have been permitted to access up to £150m of their historic reserves over the next four years.
For enquiries relating to the **road improvements **call Department for Transport Press Office: 0207 944 4294.
For enquiries relating to the **Stonehenge improvements **call English Heritage press office: 0207 973 3297.
Press Enquiries: 020 7211 2210
Out of hours telephone pager no: 07699 751153
Public Enquiries: 020 7211 6000
Published 4 April 2011