News story
Emergency British food aid for those hit by hunger crisis in West Africa
The UK will provide food relief for 330,000 children and refugees facing the threat of hunger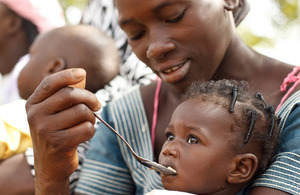 Britain's Development Secretary Justine Greening announced the new package today which will help hundreds of thousands of people across the Sahel region - including those hit by the food crisis in Burkina Faso, Chad, Mauritania and Niger.
The £10 million programme will allow the World Food Programme (WFP) to deliver emergency food rations for 200,000 refugees in eastern Chad and UNICEF to provide nutrient-rich food to 130,000 severely malnourished children across the region.
International Development Secretary Justine Greening said:
Britain will not stand on the sidelines while lives are under threat. People in the Sahel are still suffering terribly from last year's food crisis and Britain is taking a leading role in this emergency.
Our support will help avoid a future crisis by keeping open a vital lifeline of relief, but we cannot do this alone. The world must wake up to this chronic humanitarian crisis.
A serious food crisis in the Sahel region of West Africa last year has meant that many people in the region are still recovering from losing their food stocks and livelihoods. Britain's emergency help means food will reach people before their towns and villages are cut off by seasonal rains.
The UK will provide:
£5 million to support WFP to get emergency food supplies into place in eastern Chad for 200,000 refugees and communities who are at risk of hunger, before the rainy season begins. In eastern Chad, many roads become impassable for trucks between June to October every year due to the rains.

£5 million to support UNICEF's ready-to-use therapeutic food pipeline to save the lives of 130,000 severely malnourished children in Mauritania, Burkina Faso, Niger and Chad.
The United Nations estimate that over 10 million people will be at risk of food shortages across the Sahel in 2013 and that over 1.4 million children will require medical treatment for severe acute malnutrition.
In addition, more than 440,000 people have been displaced by the recent conflict in Mali, of which 180,000 men, women and children have fled into neighbouring countries Burkina Faso, Mauritania and Niger.
The World Food Programme's work in Chad currently has a funding shortfall of £31 million for 2013, or 32,825 Metric Tonnes of food this year. Without further support, WFP would be forced to cut the refugee ration by half.
UNICEF's ready-to-use therapeutic food supplies for Mauritania, Burkina Faso, Niger and Chad are also facing a £16 million funding shortfall this year. The new funding from the UK will help to close these funding gaps.
Published 8 April 2013