News story
Education reform: a world-class curriculum to drive up standards and fuel aspiration
Michael Gove announced today the final programmes of study for the national curriculum for 5 to 16-year-olds.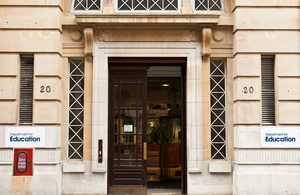 This follows a consultation period launched in February.
The new national curriculum embodies high expectations in every subject and will raise standards for all children. It combines the best elements of what is taught in the world's most successful school systems, including Hong Kong, Massachusetts, Singapore and Finland, with some of the most impressive practice from schools in England.
It has been designed to ensure England has the most productive, most creative and best educated young people of any nation. It aims to create a population with the knowledge and skills not just to get a good job and succeed in life, but also to help us compete and win in the global race.
The Prime Minister said:
We are determined to give all children in this country the very best education – for their future, and for our country's future. The new national curriculum is a vital part of that.

This curriculum marks a new chapter in British education. From advanced fractions to computer coding to some of the greatest works of literature in the English language, this is a curriculum that is rigorous, engaging and tough.

As a parent this is exactly the kind of thing I want my children to be learning. And as Prime Minister I know this revolution in education is critical for Britain's prosperity in the decades to come.

This is a curriculum to inspire a generation – and it will educate the great British engineers, scientists, writers and thinkers of our future.
Secretary of State for Education Michael Gove said:
We are introducing a tougher, more rigorous national curriculum. Schools will focus more on essay writing, mathematical modelling and problem solving. For the first time children will be learning to programme computers. It will raise standards across the board – and allow our children to compete in the global race.
Read the written ministerial statement from the Secretary of State for Education.
Published 8 July 2013