News story
Edinburgh parade marks soldiers' return from Afghanistan
Soldiers of 1st Battalion The Royal Regiment of Scotland marched through Edinburgh on Saturday to mark their return from Afghanistan.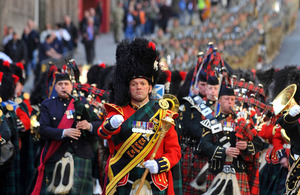 Some 450 soldiers from 1st Battalion The Royal Regiment of Scotland (1 SCOTS) took part in the homecoming parade on Saturday, 20 April.
The battalion also accepted the Freedom of the City of Edinburgh on behalf of the Royal Regiment of Scotland; bestowed by Edinburgh's Lord Provost during the homecoming parade.
Her Royal Highness The Princess Royal, Royal Colonel of 1 SCOTS, also attended the event, and presented Operational Service and United Nations Medals to a selection of members of the battalion who took part in Operation Herrick 17 in Afghanistan and Operation Tosca in Cyprus, respectively.
The medals ceremony took place at the Palace of Holyroodhouse following the parade.
The parade was led by the Band of the Royal Regiment of Scotland and the 1 SCOTS Pipes and Drums. They were followed by the regiment's official mascot, Shetland pony Cruachan IV.
The battalion's Commanding Officer, Lieutenant Colonel Ben Wrench, said:
The homecoming parade gave us the chance to thank all those who supported our families when the battalion was deployed, and particularly during some very difficult times.
We will remember the sacrifice made by many, in particular the 1 SCOTS officers and soldiers that have not returned from past operations in Afghanistan: Corporal Johnathan Moore, Private Sean McDonald, Lance Corporal Joe Pool and Captain Walter Barrie.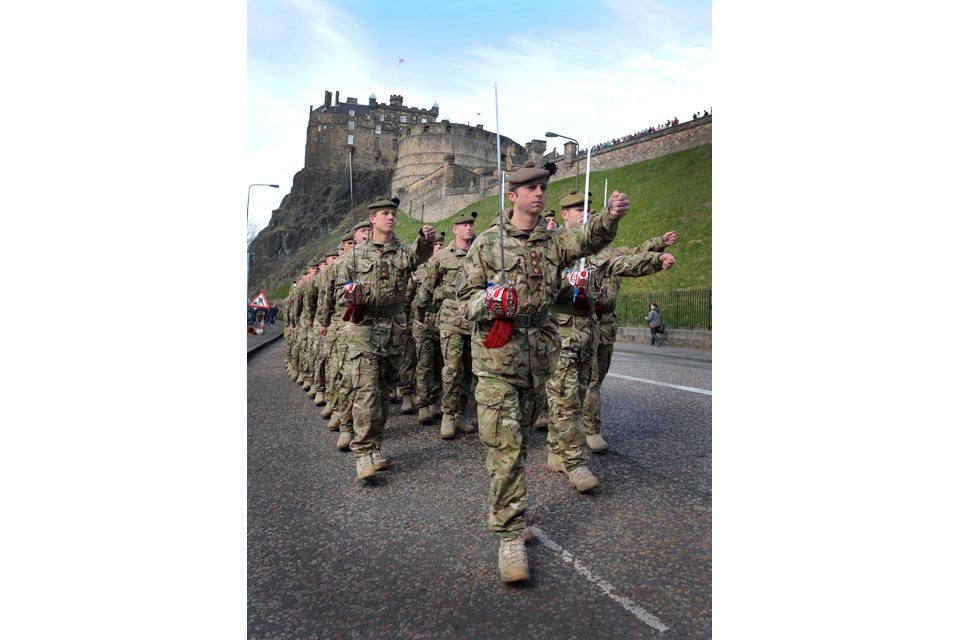 He continued:
It was a great honour and privilege to accept the Freedom of the City of Edinburgh on behalf of the Royal Regiment of Scotland.
I am immensely proud of the soldiers and receiving this civic award shows them how much their efforts are appreciated by Edinburgh Council and the people of Edinburgh.
Lord Provost of Edinburgh, Donald Wilson, said:
As Edinburgh's Lord Provost and Veterans' Champion, it was my honour to welcome 1 SCOTS home on Saturday.
Conferring the 'privilege' upon this fine and historic regiment is a clear and fitting demonstration of Edinburgh's steadfast support for the brave men and women who continue to put their lives at risk in service of this country.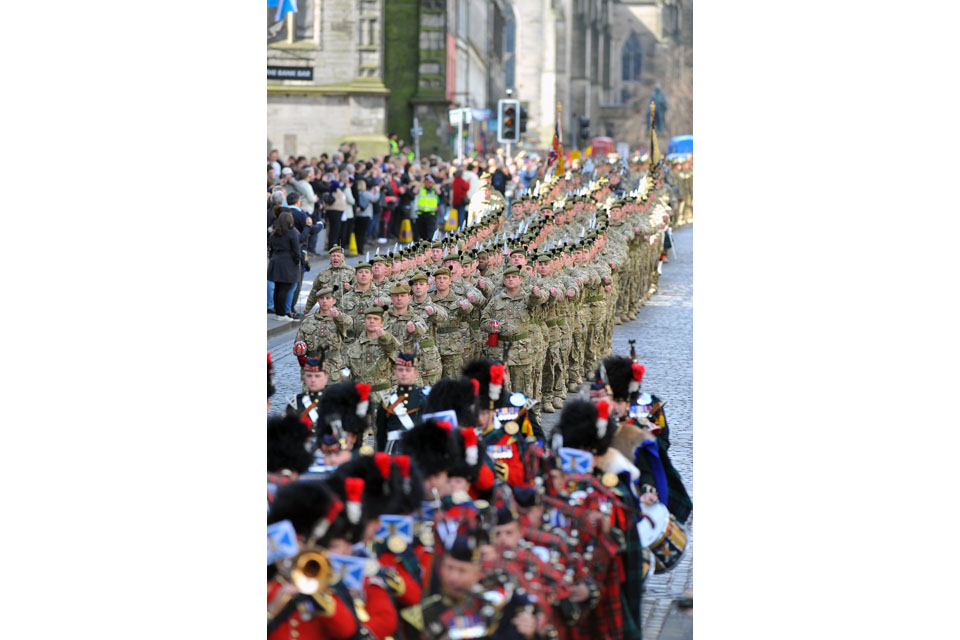 Around 450 soldiers deployed to the Helmand province of Afghanistan in September 2012 as part of 4th Mechanized Brigade, which commanded Task Force Helmand.
They took on a variety of roles in the NATO-led mission, including training and mentoring the Afghan security forces. The battalion has been returning to their Edinburgh base since the start of the month.
Published 22 April 2013