News story
Ebola: UK support to protect health services in Sierra Leone
A package of support to boost stretched public health services in Sierra Leone to tackle Ebola.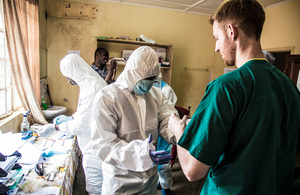 Britain has announced a further package of support to boost stretched public health services in Sierra Leone to tackle Ebola, International Development Secretary Justine Greening has announced.
Further to the UK's existing £100 million action plan, the new £20 million disease treatment and prevention package will help public health staff to continue their work, scale up aid agencies' response and provide vital supplies such as chlorine and protective clothing for thousands of health workers.
It will also enable the deployment of British and international disease control experts to assist the Government of Sierra Leone, World Health Organisation or other agencies.
Announced ahead of the London Defeating Ebola conference on the 2nd October, it will include an emergency fund for aid agencies in Sierra Leone which face an urgent gap in their funding.
International Development Secretary Justine Greening said:
Britain is working urgently with Sierra Leone to scale up the international response to the disease. Last month Britain pledged to support 700 treatment beds in Sierra Leone, but keeping basic public health services running is vital to halt the spread of the disease. Our latest support will allow stretched medical staff and aid agencies to prevent further infection.
The UK's £20 million support for public health services will:
provide vital medical supplies including chlorine, personal protection equipment such as masks, protection suits and gloves, and essential water and sanitation facilities. The supplies will be provided by UNICEF to support the Ministry of Finance's work on the ground
deploy clinicians, global health experts, epidemiologists and infection control advisers from Public Health England, King's Health Partners or the United Nations to support the World Health Organisation and the Sierra Leonean government
support the International Federation of the Red Cross to scale up their work across Sierra Leone and provide further burial services and beds
set up a £5 million emergency fund for charities and aid agencies working on the ground and in need of financial support to prevent disease and keep treatment centres open.
Dr Oliver Johnson, Programme Director for the King's Sierra Leone Partnership said:
The King's Health Partners team have been on the ground in Sierra Leone since day one of this outbreak working with local partners and, more recently, international organisations in both a clinical and advisory role to help try and control the spread of Ebola. We have not only been able to provide a full clinical response to Ebola at Connaught Hospital, but we have also been able to increase the local capacity to identify and treat Ebola patients, provide essential clinical training, spread best practice quickly and, by setting up a Command Centre in Freetown, manage the effective flow of patients across the city. In doing so, King's have been able to create a model which can be scaled up at pace across the country.
DFID will also provide £1.2 million to ensure neonatal and maternal health clinics can keep their vital services open.
In addition, UK support through GOAL is allowing the World Health Organisation to train 120 health workers in Sierra Leone every week. UK support has allowed WHO to scale up its training facility and move to a bigger location in Freetown's stadium.
The UK and Sierra Leonean governments will hold an international conference in London on 2 October 2014 to discuss how the global community can rally to provide an effective international response by providing treatment facilities and protecting public health services.
General media queries
Follow the DFID Media office on Twitter - @DFID_Press
Published 1 October 2014