News story
Ebola cases in West Africa continue to rise
PHE and other stakeholders providing technical support to the affected countries.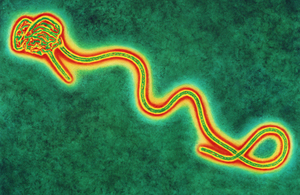 Public Health England (PHE) is aware of the escalating Ebola Virus Disease (EVD) outbreak in West Africa. EVD is a form of viral haemorrhagic fever and currently, more than 750 cases have been reported in Guinea, Liberia and Sierra Leone, of which there have been more than 450 deaths.
This is the first documented EVD outbreak in West Africa, and it is already the largest ever known outbreak of this disease. Despite earlier expectations that the outbreak would be brought under control, at the end of May 2014 there was a significant increase in the number of new cases, and the outbreak spread to previously unaffected areas in Guinea and Sierra Leone.
Containment of the outbreak will require a strong response and WHO has organised a high level sub-regional meeting 2 to 3 July to assess the situation and to develop operational plans and ensure increased political commitment.
It is clear that controls have not yet been successful and WHO and a wide range of technical partners including UNICEF, Médecins Sans Frontières, PHE and other stakeholders, are providing technical support to the affected countries to help prevent community and health care facility spread of the virus.
PHE are key members of the European Mobile Outbreak Response Lab, and PHE scientists continue to offer support on the ground in West Africa. PHE has so far supplied a number of laboratory and public health staff to the region and plan to deploy more soon.
Dr Dilys Morgan, head of gastrointestinal, emerging and zoonotic diseases at PHE, said:
The increase in cases and expansion into new areas are cause for concern, as this indicates that the outbreak is not yet under control. PHE has been monitoring the outbreak since it was first announced in March and will continue to assess the situation as well as providing support as required.

The risk to travellers and people working in these countries of contracting Ebola is very low, but we have alerted medical practitioners about the situation in West Africa and requested they remain vigilant for unexplained illness in those who have visited the affected areas. People returning from Guinea, Liberia or Sierra Leone who have a sudden onset of symptoms such as fever, headache, sore throat and general malaise within 3 weeks of their return should immediately seek medical assistance.
Dr Lisa Ford, clinical advisor at the National Travel Health Network and Centre (NaTHNaC), which is commissioned by PHE, said:
It is important to stress that no cases of imported Ebola have ever been reported in the UK. The risk to a traveller going to West Africa of contracting Ebola is very low without direct contact with the blood or body fluids of an infected person. Travellers and people working in the affected countries should refer to the Ebola haemorrhagic fever clinical updates which are available from the NaTHNaC website.
Timeline of events:
February 2014 - Outbreak of a haemorrhagic illness in south-east Guinea
March 2014 - Outbreak of Ebola confirmed in south-east Guinea
Later that month, tests confirm Ebola has spread into Liberia
May 2014 - Sierra Leone confirms Ebola has spread to the Kailahun district, in the east of the country
June 2014 - MSF declares the Ebola outbreak is out of control
July 3 2014 - Death toll: Guinea, 303. Liberia, 65. Sierra Leone, 99. Total number of deaths in West Africa, 467
PHE has published a risk assessment of the current Ebola outbreak for the UK resident population and UK citizens in West Africa.
PHE has also published advice for humanitarian workers working in the affected areas and also a general information factsheet
Published 3 July 2014
Last updated 4 July 2014
+ show all updates
Updated to add a link to the general information factsheet for humanitarian workers working in Ebola affected areas.
First published.