Early years apprenticeship bursary doubled to £3,000
Early years apprenticeship bursary doubles as part of the government's drive to attract high-quality candidates to the profession.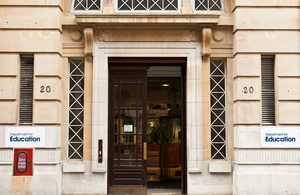 Two hundred early years apprentices will benefit from an increased bursary of £3,000 - up from £1,500 - with a further £300 available for training and study as part of the government's drive to attract high-quality candidates to the profession.
The bursaries - announced in May this year - are available to those taking part in an early years apprenticeship scheme which offers a high-quality route to becoming an early years educator, the modern equivalent of the highly respected nursery nurse diploma. The first 200 successful applicants to the bursary scheme will secure the increased award of £3,000.
Evidence shows that gaps in educational attainment between the most disadvantaged children and those from wealthier backgrounds are already well established before children reach school. We know that qualified and highly skilled leadership is the best way to improve outcomes for these children, by raising standards and ensuring that all young children receive the best possible start in life.
In 'More great childcare', the government set out its plans to increase the number of skilled staff working in the early years, and to improve qualifications so that parents and providers have greater confidence in the calibre of people teaching young children.
Elizabeth Truss, Education and Childcare Minister, said:
Caring for and educating young children requires great skills and specific experience. I hope the increased bursaries announced today encourage more talented people to start a career in early education, which can be a fantastically rewarding job.

Research shows that a third of children are starting school without basic language and communication skills - in poorer areas, this rises to more than a half. Knowledgeable and experienced staff, such as the new early years educators, will play a vital role in providing good quality early years education to ensure that all children - no matter what their starting point in life - develop the skills they need for learning.
To be eligible, applicants will need to secure an apprenticeship position in a nursery, school nursery, or children's centre that delivers the early learning places for 2-year-olds and hold at least a GCSE, at grade C or above, in English and maths.
The scheme, which is run by the National College for Teaching and Leadership, is now open for applications. Apprenticeships are expected to take an average of 20 months to complete, and will consist of employment and study to gain recognised qualifications through various routes - including further education colleges.
Notes to editors
There is strong evidence that early education makes a positive difference to young children. The 'Effective provision of pre-school education' study found that high-quality early education has particularly strong impacts on the cognitive and social development of disadvantaged children, and that these benefits last throughout primary school. The 'Early education pilot for 2-year-old children' evaluation also found that only higher-quality providers made an impact on children's development in the pilot.
Successful applicants for the 200 bursaries available this financial year will receive £3,000. The main bursary payment will be subject to tax and national insurance deductions.
Since September 2010, every 3- and 4-year-old has been entitled to 15 hours per week of funded early education. In September 2013, the government introduced early learning places for around 20% of all 2-year-olds. Children will be eligible if their families meet the income and benefits criteria also used for free school meals, or if they are looked after by their local authority. From September 2014, this will be increased to around 40% of 2-year-olds.
The bursary scheme is administered by the National College for Teacher and Leadership. Applicants will need to be undertaking the level 3 advanced apprenticeship in children and young people's workforce to be eligible.
DfE enquiries
Central newsdesk - for journalists 020 7783 8300
General enquiries - for members of the public 0370 000 2288
Published 22 November 2013