Press release
New £2 million scheme for early years apprentices
The government has today announced a £2 million apprenticeship bursary scheme for the early years profession.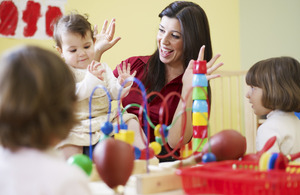 Those aspiring to a career in early education will be able to apply for a bursary worth up to £1,500, with a further £300 available for more training, from September. There will be up to 1,000 bursary places available.
In January, in 'More great childcare', the government said it would build a stronger and more professional early years workforce with more rigorous qualifications.
The apprenticeship bursary will be a transitional scheme ahead of the early years educator qualifications in 2014. The apprenticeship bursary scheme will also seek to support the delivery of the early learning places for 2-year-olds.
To be eligible, applicants will need to secure an apprenticeship position in a nursery or other provision that delivers the early learning places for 2-year-olds and hold at least a GCSE, at grade C or above, in English and maths, to help ensure that a more skilled workforce delivers better quality early education.
Elizabeth Truss, Childcare and Education Minister, said:
Caring for and educating young children is a fantastically rewarding job.

The bursaries announced today will make it easier for talented people to start a career in early education.

Providing good quality early education is proven to help young children get a head start in life, especially those who are from poorer backgrounds.

I hope these bursaries encourage students to consider working in early education.
The scheme, which will be run by the National College for Teaching and Leadership, will be open to applications from this September.
Apprenticeships are expected to last an average of 20 months. They will consist of employment and study to gain a recognised qualification through various routes, including further education colleges.
David Pomfret, Principal of the College of West Anglia, said:
We have seen a significant increase in the number of young people taking childcare courses at the college in recent years and are about to launch a new range of work-based apprenticeships in early years to provide further opportunities.

We welcome the minister's announcement of the apprenticeship bursary scheme, which should enable more people to train for a career in this growth industry.
Notes to editors
There is clear evidence that it is quality childcare that makes a positive difference to a young child's life chances. For example, Andreas Schleicher of the Organisation for Economic Co-operation and Development (OECD) said:
Results from PISA show that high performing education systems consistently prioritise the quality of their staff over the size of classes.

OECD's work on early childhood education 'Starting strong 3' underlines the importance of having staff with proper educational qualifications and that staff qualifications are the best predictor of the quality of early childhood education and care.
The main bursary payment will be subject to tax and national insurance deductions.
Since September 2010 every 3- and 4-year-old has been entitled to 15 hours per week of funded early education. From September 2013 the government will introduce early learning places for around 20% of all 2-year-olds. Children will be eligible if their families meet the income and benefits criteria also used for free school meals, or if they are looked after by their local authority.
From September 2014, this will be increased to around 40% of 2-year-olds. The government recently consulted on eligibility criteria for new early years qualifications, which will be available from 2014. We will publish the findings and new criteria soon.
The scheme will be administered by the National College for Teaching and Leadership and details will be published on its website shortly. More information can be obtained by emailing the NCTL apprenticeships team. Applicants will need to be undertaking the level 3 advanced apprenticeship in children and young people's workforce to be eligible.
DfE enquiries
Central newsdesk 020 7783 8300
General enquiries 0370 000 2288
Published 29 May 2013