Press release
DPRK Human Rights Violations Condemned
UN Human Rights Council says "systematic and widespread human rights violations in the DPRK" cannot remain unpunished.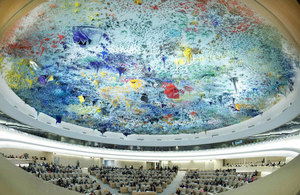 On Friday 28 March, the United Nations Human Rights Council passed a resolution on human rights in the Democratic People's Republic of Korea (DPRK).
The resolution reflected the findings and recommendations of the recent Commission of Inquiry (COI) report into human rights violations in the DPRK. The Commission was established by a unanimous decision of the UN Human Rights Council in March 2013 to "investigate the systematic, widespread and grave violations of human rights in the Democratic People's Republic of Korea . . . with a view to ensuring full accountability, in particular where these violations may amount to crimes against humanity."
In response to the passing of the resolution, Foreign and Commonwealth Office Minister Hugo Swire said:
I welcome this result.

As the British Foreign Secretary William Hague said in 2011: "Governments that block the aspirations of their people, that steal or are corrupt, that oppress and torture or that deny freedom of expression and human rights should bear in mind that they will find it increasingly hard to escape the judgment of their own people, or where warranted, the reach of international law".

His words resonate strongly in light of what is now happening in the Democratic People's Republic of Korea (DPRK).

I want to acknowledge the work of the Commission of Inquiry in fulfilling their mandate and the courage of those who gave their testimony, notwithstanding the potential risks for them and their loved ones. Together they have provided the substance for the strongest resolution the international community has passed on this issue to date.

It includes a recommendation to establish a new structure, based in the region, to continue the work of the Commission in monitoring and documenting the human rights situation in the DPRK. Equally importantly, this resolution spells out clearly to those responsible for human rights violations and crimes against humanity that they will not escape being held to account for their actions. There will be no more impunity for these most serious of crimes. In the UK's view this should ultimately mean investigation by an appropriate criminal justice mechanism, such as the International Criminal Court.

At all stages of this investigation the British government, like the Commission of Inquiry, have urged the government and leaders of the Democratic People's Republic of Korea to engage with the international community on the issue of human rights. I again call on the DPRK to give a detailed response to the contents of the report and to address the human rights violations that it documents, in particular by taking immediate steps to close political prison camps and to give full and unimpeded access to the Office of the United Nations High Commissioner for Human Rights and other relevant parts of the UN.
Further information
Follow Foreign Office Minister Hugo Swire on twitter @HugoSwire
Follow the Foreign Office on twitter @foreignoffice
Follow the Foreign Office on facebook and Google+
Published 28 March 2014