Press release
UK responds to UN report on Human Rights in DPRK
Foreign Office Minister Hugo Swire welcomes UN Commission spotlight on human rights in DPRK and calls for end to impunity for violators.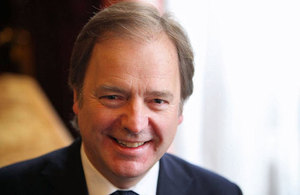 On Monday 17 February the United Nations Commission of Inquiry on Human Rights in the Democratic People's Republic of Korea (DPRK) released their report on human rights violations in the DPRK. The Commission was established in March 2013 by the UN Human Rights Council in Geneva to "investigate the systematic, widespread and grave violations of human rights in the Democratic People's Republic of Korea . . . with a view to ensuring full accountability, in particular where these violations may amount to crimes against humanity."
In response to the publication of the report, Foreign and Commonwealth Office Minister Hugo Swire said:
This comprehensive report shines a spotlight on the shocking human rights violations which have gone on for far too long in North Korea.

The United Kingdom has strongly supported the work of the Commission of Inquiry and I was pleased to meet Justice Kirby and Sonja Biserko when they visited London last October.

We will study the report's detailed recommendations carefully but the Commission's finding that these violations constitute crimes against humanity is a conclusion to which the international community must respond. We will work with partners to ensure the UN Human Rights Council sends a strong message to the DPRK that there can be no impunity for human rights violators.

I also urge the DPRK authorities to respond in detail to the contents of the report and to address the human rights violations that it documents, in particular by taking immediate steps to close political prison camps and to give full and unimpeded access to the Office of the United Nations High Commissioner for Human Rights and other relevant parts of the UN.
Further information
Read the UN Commission of Inquiry report
Follow Foreign Office Minister Hugo Swire on twitter @HugoSwire
Follow the Foreign Office on twitter @foreignoffice
Follow the Foreign Office on facebook and Google+
Published 18 February 2014