Press release
Digital Deal: 12 projects to help social tenants get online
The government's Digital Deal has provided funding for internet services and training to social housing tenants.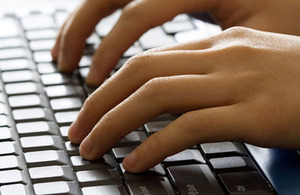 Twelve landlord projects providing internet services and training to social housing tenants received funding today (9 August 2013), as part of the government's Digital Deal.
The Digital Deal is aimed at encouraging more social housing tenants to get online, improve their skills and benefit from wider internet services.
The 12 successful bids will see a diverse range of projects including community volunteer support and expert mentors, along with technological solutions such as mobile internet wi-fi clouds, converting TVs into internet devices and recycled IT equipment.
The Digital Deal is providing £400,000 of funding from the Department for Work and Pensions and the Department for Communities and Local Government matched by the winning bidders.
Lord Freud, Minister for Welfare Reform, said:
Getting online is part and parcel of 21st century life and being able to confidently use the internet is essential for work today.

Universal Credit is a major cultural change in the way people receive and access support. We are putting the internet at the heart of our reforms to encourage and help claimants develop their online skills.

Internet access and support is available through Jobcentre Plus and the Digital Deal is bringing the latest technology and community groups together to break the digital barrier.
Communities Minister Don Foster said:
Whilst ever more people, of all ages and backgrounds, are getting online some people have been left behind including many social tenants. Today we are backing 12 projects across the UK to help turn this around, opening up all the benefits of the internet from job searches to keeping in touch with friends and family to thousands more people for the first time.

As the UK becomes ever more reliant on the internet as both a work and social tool we can't afford not to make this investment to help all sections of society keep pace.
Digital Deal is being managed by the Tinder Foundation, which supports the 5,000 online centres across the UK.
Helen Milner, Chief Executive of Tinder Foundation, said:
I've seen the growth of Digital Deal from just a germ of an idea, so it's great to see the announcement of these 12 new projects and I'm really looking forward to seeing what they'll all achieve. We'll be there every step of the way to support them.

Social housing is such an important sector in terms of digital inclusion, and it's never been more critical for social housing providers to help their tenants to get online – whether in preparation for Universal Credit or to help them get jobs and manage their finances online.

I want to encourage everyone – whether their bid was successful or not – to continue developing their ideas, and we're really keen to work closely with them to help them do this.
The successful bids named today are:
Golden Gates Housing Trust (GGHT), Cheshire
A project will turn residents' TVs into internet access devices using Digital Den Android mini-PCs.
Peter Fitzhenry, GGHT Director of Housing Management, said:
Golden Gates Housing Trust believe this is an exciting opportunity that will benefit a significant number of digitally excluded customers living in one of the most disadvantage areas in the UK.

The funding will support the Trust to deliver its commitment to digital for all using a unique solution through the television. The 'Longford Online' project will enable hundreds of tenants to experience the wonders of the internet in their own home without having to purchase a computer.

Access to the internet should be available to everyone and this funding will allow GGHT to change the lives of its customers while enabling it to increase its digital service offerings, while breaking digital barriers for hundreds of its customers.
Cottsway Housing, Oxford
To addresses rural isolation, Cottsway Housing will invest in Looking Local – a digital TV channel, website and app – giving residents free access to digital services.
Owen Ingram, Chief Executive of Cottsway, said:
It is fantastic news that we have been successful in securing Digital Deal Challenge funding.

Cottsway is a dynamic, community business with our customers at the heart of everything we do. We operate within the West Oxfordshire District, including some rural areas around.

This funding will allow us to introduce new services and enhance existing services to ensure that all residents – regardless of where they live - have access to digital services and are actively supported to develop their digital skills with confidence.

We look forward to launching a digital access hub to reach even more residents in their own communities.
London Borough of Camden
A project will engage households by providing low-cost and recycled computers to tenants and recruit community volunteers.
Leeds Federated Housing, Leeds
A mobile internet café will provide internet access to communities and create free Wi-Fi clouds to neighbourhoods.
Matthew Walker, Chief Executive of Leeds Federated Housing Association, said:
We are delighted to have been successful in securing Digital Deal Challenge funding. This is thanks to the hard work of our Community Development Manager Sue Jennings, who works within our new Social Investment Team and is leading on our digital inclusion strategy.

As services increasingly move online it is vital that our tenants are not left behind. Our organisation wishes to ensure its services are developed to meet our customers' changing needs, especially as around half of people in the UK not online live in social housing.

We need to be ready to meet this challenge and this funding, matched by our own resources, will allow us to put in place innovative new projects and activities to inspire our tenants to plug into the many benefits being online brings.
Bron Afon Community Housing, Torfaen
A network of Wi-fi and fibre broadband help-points will be established.
Duncan Forbes, chief executive of Bron Afon, said:
We have to make it as simple as possible for tenants to get online as it will not be long before they have to use the internet to manage any benefits they receive.

Already the majority of job-hunting takes place online so it's vital we increase the number of places where the internet is available for free.

Broadband is becoming a necessity but for many tenants it is a luxury they can't afford to have in their home. This cash is brilliant news for the area and the many people who don't have easy access to the internet.
Yarlington Housing Group, Somerset
Local Digital Champions will be recruited alongside a project to improve local internet accessibility.
Ken Comber, Head of Communities at Yarlington, said:
We are really excited about being successful in our application through the Digital Deal. It will enable us to create more opportunities for our residents, give them increased access to computers, the internet and online tools and resources.

The funding will allow us to work in partnership with social enterprise Cosmic, local charity IT Help @ Home, and IT company Perspicuity, to provide a range of support for residents, from helping them to find work, create CV's or access information linked to hobbies or skills they may want to improve.

A number of our residents will be recruited and trained as Digital Champions, who will then support their communities in accessing IT information. Residents that live rurally will be able to access computers through our equipment loan scheme that will be set up and a tour of Gadget Shows will give residents the opportunity to learn more about digital equipment as well as try it out. We're really looking forward to working with our communities and being able to implement our ideas.
Queens Cross Housing, Glasgow
Local Connections will build digital skills in disadvantaged areas and groups through outreach work based in four new community digital hubs.
Fin McElhinney, Director of Housing and Customer Services, said:
We're absolutely delighted to have been awarded Digital Deal funding.

We expect Local Connections to open doors for our tenants to a world of online opportunity, skills, experience and learning. Fifty four per cent of our tenants have no access to the internet currently so this funding is a first big step on the way to achieving digital inclusion for people of all ages living in our local communities.

We will learn and embrace change together.
A2 Dominion Housing Group, London
The Digital DIY Project will provide a 'train the trainer' digital programme with a mentor network of trained staff and resident mentors. It will provide seven new Digital DIY access points in community facilities and pilot a computer recycling programme.
Fiona Cornell, A2Dominion's Deputy Executive Director (Operations), said:
As one of the country's leading housing associations, we have been awarded funding from the Digital Deal Challenge Fund to support 1,300 residents, who are aged 45 and over and in rent arrears, to improve their computer skills.

Following the government's welfare reform changes, many residents will have benefits paid directly into their bank accounts, and from this they will need to pay their rent. Through this project, residents will be able to get online to make payments and keep track of their rent accounts and benefits, helping to avoid the risk of rent arrears.

In total, we will train 45 staff and volunteers to deliver basic training to residents in their homes and local community centres, with our work focused in the Ealing, Stanwell, Westminster, Chichester, Winchester and Salisbury areas.
Fabrick Housing Group, Middlesbrough
Twelve accessible internet kiosks to bring free internet access to urban and rural social housing residents.
Stewart Tagg, Head of Neighbourhoods for Fabrick Housing Group, said:
We are delighted to receive this Digital Inclusion Grant from the DWP, which will assist more than 1,000 residents living in homes belonging to the partners in Fabrick Housing Group and the Vela Group to use the internet; some for the first time and others with greater confidence.

A key feature of our joint project is the installation of free access internet kiosks in a number of communal sites which will help another 2,500 residents to experience the ability to access information and services online. The timing of this grant could not be better, as access to government services including welfare benefit claims is being brought into the digital age.
Progress Housing Group, Preston
Mobile support will provide training to communities along with a network of tenant zones.
Bernie Keenan, Executive Director of Housing, Community and Support Services for Progress Housing Group, said:
Progress Housing Group is thrilled to receive this funding, which will enable us to help even more of our tenants to get online and more importantly to stay online.

Our Digital Futures campaign aims to challenge the barriers to digital engagement our tenants may face such as lack of access to the internet, not understanding the benefits of being digitally engaged, or not having the necessary skills and confidence.

We will do this by working in our communities to provide free and easy access to the internet, person centred training, advice and support and an innovative IT 'buddy' scheme. This funding is a significant achievement for the organisation and we look forward to the positive impact it will have in our communities.
Wirral Partnership Homes, Wirral
Affordable recycled IT equipment and trainers will be provided via a local social enterprise.
South Essex Homes, Essex
Improved internet access for residents and support with claiming benefits online.
Mike Gatrell, Chief Executive of South Essex Homes, said:
A recent survey showed that 55% of our residents have no internet access. The Digital Deal Challenge funding will provide 6 months of digital training and volunteering opportunities delivered from a host of locations across the borough. There will also be the option for residents to be referred onto more advanced courses where appropriate.

An exciting part of the project is the opportunity for residents to become IT Champions. These champions will be provided with free IT equipment to provide ongoing support and guidance to residents within their own communities.

The project will also enable South Essex Homes to work more efficiently as we offer more services online and help customers in what is becoming an ever more digital world.
More information
The Digital Deal is a cross-government challenge fund initiative to encourage social housing tenants to get online or improve their skills. Social landlords bid for funding to run innovative projects for their tenants.
The initiative will be delivered by the Tinder Foundation.
Read more information on Universal Credit and benefit entitlements
Press Office
Caxton House
Tothill Street
London
SW1H 9NA
London Press Office (national media and London area enquiries only – not questions about personal claims) 020 3267 5144
Out-of-hours (journalists only) 076 59 108 883
England and Wales (local media enquiries) 029 20 586 then 097 or 098 or 099
Scotland (local media enquiries) 0131 310 1122
Media enquiries for this press release 0203 267 5123
Follow us on Twitter www.twitter.com/dwppressoffice
Published 9 August 2013
Last updated 9 August 2013
+ show all updates
Tagged to policies and ministers to appear in gov.uk rss feeds and email alerts.
First published.