News story
DfT reforms penalty fares to better protect rail passengers
Penalty fares appeals bodies must be completely independent of the train operating companies and their financial owners.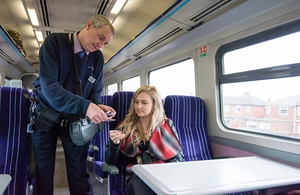 Changes to the way rail companies operate their penalty fare appeals processes will be imposed by the Department for Transport in order to safeguard passengers while giving ministers clearer oversight of the system.
The department announced today (10 December 2016) that it wants to make sure that penalty fares appeals bodies are completely independent of the train operating companies and their financial owners.
Confidence in the penalty fares appeals system is to be further boosted by the introduction of an independent appeals panel to head up a new third stage to the appeals process.
Rail Minister Paul Maynard said:
Fare dodgers cost the railways £240 million every year and this bill is picked up by honest passengers in the form of higher rail fares. Penalty fares are imposed to deter those seeking a free ride but mistakes do happen and where a passenger feels they have been unfairly treated, they need to be confident that there is a robust and independent process in place to deal with their appeal.
The new rules, which will go through Parliament next year, are in response to a public consultation on issues raised by Transport Focus in their report Ticket to ride which called for more passenger friendly deadlines for appeals and payments, compulsory annual audits of the penalty fares data and an end to unnecessary threats of criminal action when sending out reminder letters.
The main changes are:
simpler rules on deadlines for payment and appeals
passengers who are charged a penalty fare will be able to access a new, third-stage independent appeals panel
penalty fares appeals bodies must be independent of train operators and their owners
stronger DfT oversight of the appeals process through an annual audit of the penalty fares data
The department has also promised to work with the rail industry to make sure passengers and staff understand how the penalty fares regime works to avoid warnings of criminal sanctions being made inappropriately.
Rail media enquiries
Media enquiries 020 7944 3021
Out of hours media enquiries 020 7944 4292
Switchboard 0300 330 3000
Published 10 December 2016