News story
DFID Research: Job opportunity- Women's Economic Empowerment and Growth in Low-Income Countries
The International Development Research Centre are looking for a senior programme specialist to help lead a new global initiative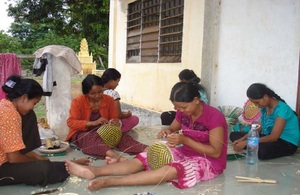 The International Development Research Centre (IDRC) in Canada is currently looking to recruit a senior programme specialist for a new initiative. Women's Economic Empowerment and Growth in Low-Income Countries (WEEG) will be a global initiative, housed within the Supporting Inclusive Growth (SIG) programme which supports rigorous and policy-oriented research, generating new insights and options for promoting policies that facilitate inclusive growth.
The new initiative will be jointly supported by the UK's Department for International Development, The Hewlett Foundation, and IDRC with an approximate value of CA $15 million over 5 years. It will aim to enhance knowledge and inform policies on barriers to women's economic empowerment, the role of the care economy, and on the links between women's economic empowerment and economic growth.
Working under the guidance of the SIG programme leader, the senior programme specialist will be expected to take the lead on:
Managing the WEEG program
Promoting research quality and scientific merit
Facilitating program learning and synthesis across projects
Supporting research uptake
Contributing to governance
All candidates will be expected to have a PhD in a relevant social science discipline or a Master's degree with significant work experience. In addition, applicants should have a minimum of 8 years' experience in a related field. This experience should include:
Programme research management involving multiple stakeholders
Leading, managing and conducting research projects in developing regions on issues related to gender and economic growth
Assessing and strengthening research capacities through mentoring and supervising
Establishing and building partnerships with research organizations and end users
Consulting with decision-makers and policy actors to identify research needs
Working in developing regions
Working in a policy research or grant-making organization is an asset
To find out more about the position visit the IDRC website here.
Applicants should provide a covering letter and a CV as well as a completed application form. The closing date for applications is the 17th July 2013.
Published 24 June 2013