Press release
Deputy Prime Minister urges business to prepare bids for Regional Growth Fund Round 5
Businesses urged to get ready for the next round of Regional Growth Fund as the Deputy Prime Minister announced Round 5 will open in October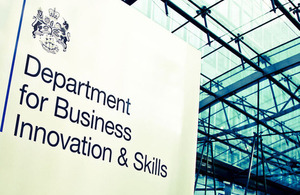 Businesses across England were urged to get ready to apply for funding from the next round of the Regional Growth Fund today as the Deputy Prime Minister announced that Round 5 will formally open in October.
Round 5 will be focused entirely on private enterprise proposals, for high quality projects that can generate significant private sector investment and create sustainable jobs.
Local Enterprise Partnerships (LEPs) will be able to support their local economies by bidding into the Single Local Growth Fund, as announced by the Treasury in June this year. This gives business-led LEPs, working with their local partners, the power and the funds to pursue their growth priorities.
The fund will be looking for high quality bids for Round 5 so that it can continue to support a variety of projects, industries and local areas to boost economic growth and create jobs.
Deputy Prime Minister Nick Clegg said:
The Regional Growth Fund has been a success, helping to create thousands of jobs. Britain is returning to long term growth, but we want to see business booming. I'd encourage all companies to look carefully at how the Fund can help you grow, and get ready to apply in October.
Application forms for Round 5 will be available in early October and businesses will have until the closing date of 9 December to submit their bids. Any companies who will not be ready to apply for Round 5 will be able to apply for Round 6 which will be launched in the summer of 2014.
Business Minister Michael Fallon said:
The Regional Growth Fund is playing a pivotal role in supporting business and enterprise. The next round, which opens in October, will help keep the momentum going and complement the long-term approach of our industrial strategy – helping us to invest in and support key sectors.
There is a relatively short window to submit an application so firms should start thinking now about the size and timing of their bid to help them expand and hire more skilled workers.
Lord Heseltine, chair of the Independent Advisory Panel for the Regional Growth Fund, has also today published his five top tips for submitting a good bid to the fund to help businesses be ready. These include being realistic, demonstrating the benefits of the project and seeking guidance from officials and local business leaders.
While Round 5 requires minimum bids of £1 million, small and medium sized businesses should be aware that there are still funds available from existing Regional Growth Fund programmes which are still open for business. These schemes will have minimum bids from as little as £5,000 in some areas, and up to £1 million in others.
To help businesses with their applications, there will be a number of events and expression of interest days around the country from 11 October to help answer questions on Round 5 and advice on how to submit a strong bid. Further details of these events will be published on GOV.UK shortly.
Lord Heseltine's top 5 RGF tips for potential bidders
The Regional Growth Fund has now been through four competitive rounds and in each of them the Independent Advisory Panel which I chair has sifted through the hundreds of applications that were made. I thought I'd share my experiences of being on the panel, to help those of you who are interested in bidding to Round 5.
Leverage
The RGF is all about the public and private sector working together. What we want to see is a relatively small amount of RGF money helping to unlock large amounts of private sector investment. So leverage is key.
Throughout the four rounds of the RGF the ratio of private to public investment has been 5.5:1.
My panel and I are not just interested in the amount of private money, but also the quality of it. Sources such as company funds or guaranteed bank lending are far more attractive to us than future profits or unsecured lending.
Pace of delivery
The areas where the RGF is having an impact need private sector growth now, not in a few years' time; projects and programmes that can unlock investment and create jobs quickly are far more attractive than longer term schemes. Speed is of the essence.
Plans that are clearly well developed and ready to go stand out from those where a lot more preparatory work is required. Programmes, for instance, that include a pipeline of SMEs for support are a better prospect for investing in than those without one.
Value for money
RGF money is not there for projects and programmes that would have started anyway without Government support. My panel are very astute at knowing which companies could probably go ahead with their ideas using private funding alone.
Bidders need to demonstrate that the RGF money they have asked for is the minimum amount to allow the project to proceed. My panel often concludes that individual schemes could and would proceed with a lower level of, or indeed no government funding.
Do the right thing
The RGF is all about helping companies in the right sectors to grow and diversify. My panel and I love nothing more than to help firms of all sizes to move in to new markets or to help them export.
It's all about supporting extra jobs in the UK. So we are not interested in helping one company grow at the expense of another or one region to benefit to the detriment of a neighbouring region.
Equally, speculative commercial development ideas are not looked upon favourably by my panel. Job creation in growth sectors are an attractive proposition for government support.
Get advice
One of the benefits of a competitive process is that there are plenty of people to speak to and lessons to be learned. So talk to someone.
Whether that is by talking to previous bidders about their experiences, or local business support networks, a critical friend is always a good thing.
In addition, officials in the RGF Secretariat offer Expression of Interest (EoI) meetings across the country when a round is open. The majority of successful bids in Rounds 3 and 4 had an EoI meeting beforehand and more regional events than ever are being arranged for Round 5, so you need to make the most of the opportunity.
Notes to editors
The Regional Growth Fund (RGF) is a flexible and competitive £3.2 billion fund operating across England from 2011 to 2017. It supports projects and programmes that are using private sector investment to create economic growth and sustainable employment.
Round 5 of the Regional Growth Fund will open on 11 October and close to applications on 9 December 2013 at noon. Bids will be appraised as quickly as possible.
Applicants should be aware of expected changes to the EU State Aid regime from the end of June 2014. This will not have an impact on applications to Round 5 but may have an impact for Round 6.
To keep up to date on further RGF developments please follow us on Twitter: @RGFGrowthFund
Since the Fund started over 2,700 grants have been given to SMEs through RGF programmes administered by intermediaries such as banks and local enterprise partnerships (LEPs).
Businesses can find out about their local programmes, and more about how to apply online. These programmes typically have a lower minimum bid threshold which may be more applicable for small to medium enterprises.
If your business is not eligible for the Regional Growth Fund, there are plenty of other government backed finance options available.
In June the government reaffirmed its commitment to help small and medium-sized businesses succeed. We will launch a strategy in the autumn on what further support government will provide to create a positive environment for businesses to start up and grow.
The government's economic policy objective is to achieve 'strong, sustainable and balanced growth that is more evenly shared across the country and between industries'. It set four ambitions in the 'Plan for Growth', published at Budget 2011:

to create the most competitive tax system in the G20
to make the UK the best place in Europe to start, finance and grow a business
to encourage investment and exports as a route to a more balanced economy
to create a more educated workforce that is the most flexible in Europe
Work is underway across government to achieve these ambitions, including progress on more than 250 measures as part of the Growth Review. Developing an Industrial Strategy gives new impetus to this work by providing businesses, investors and the public with more clarity about the long-term direction in which the government wants the economy to travel.
Published 5 September 2013
Last updated 5 September 2013
+ show all updates
Added section "Lord Heseltine's Top 5 RGF tips for potential bidders"; - and made a number of minor changes.
First published.