Deputy Prime Minister chairs UK-France defence talks
Deputy Prime Minister Nick Clegg has joined ministers from the UK and France for high-level talks on future defence cooperation.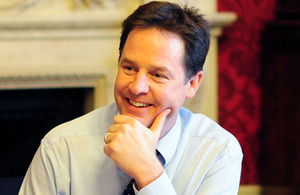 Mr Clegg chaired a meeting between defence and foreign secretaries at the UK-France Summit in London today.
Prime Minister David Cameron and French President Nicolas Sarkozy held a bilateral during the summit before joining the Deputy Prime Minister's meeting.
Following the talks, Mr Cameron and Mr Sarkozy announced that the UK and France had signed treaties pledging to work more closely together and opened a "new chapter" in defence and security cooperation.
Mr Cameron said the move would make British people safer and better protected in an "age of uncertainty".
British and French immigration ministers and finance ministers also held bilaterals and the two countries have committed to continue working together to fight illegal immigration and trafficking.
Read more about the UK-France Summit on the Number 10 website
Published 2 November 2010