News story
David Cameron welcomes Sport Relief's fundraising finest
The Prime Minister has applauded the commitment of some of Sport Relief's top fundraisers, including triathlon hero Davina McCall.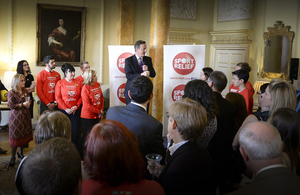 From wheelchair racers to underwater cyclists, some of Sport Relief's most dedicated fundraisers joined Davina McCall at a reception at 10 Downing Street today (17 March 2014), hosted by the Prime Minister.
Davina McCall, who ran, swam and cycled over 450 miles from Edinburgh to London in her BT Sport Relief Challenge: Davina – Beyond Breaking Point, said:
It's such an honour to be here with all these brilliant people who have done such amazing things for Sport Relief. I went through some tough times on my challenge this year, but some of these fundraisers have overcome extraordinarily difficult things to do their bit. It's very humbling. Everyone deserves real recognition for their hard work in support of a great cause.
The Prime Minister said:
It's a real honour to welcome these Sport Relief heroes to Downing Street today.

From the truly imaginative to the relentlessly gruelling, many of them have overcome incredible personal challenges to help others.

Their sheer determination and moving stories are a real inspiration and I am sure they will inspire many more people right across the country to support this brilliant cause.
Jo Whiley, who will do a 26 hour treadmill challenge on Wednesday 19 March live on Radio 2, said:
I'm so inspired by all the incredible stories I've heard today from people all over the country doing their bit. The thought of 26 hours on a treadmill is daunting but Davina and all the other fundraisers have got me raring to take on the challenge!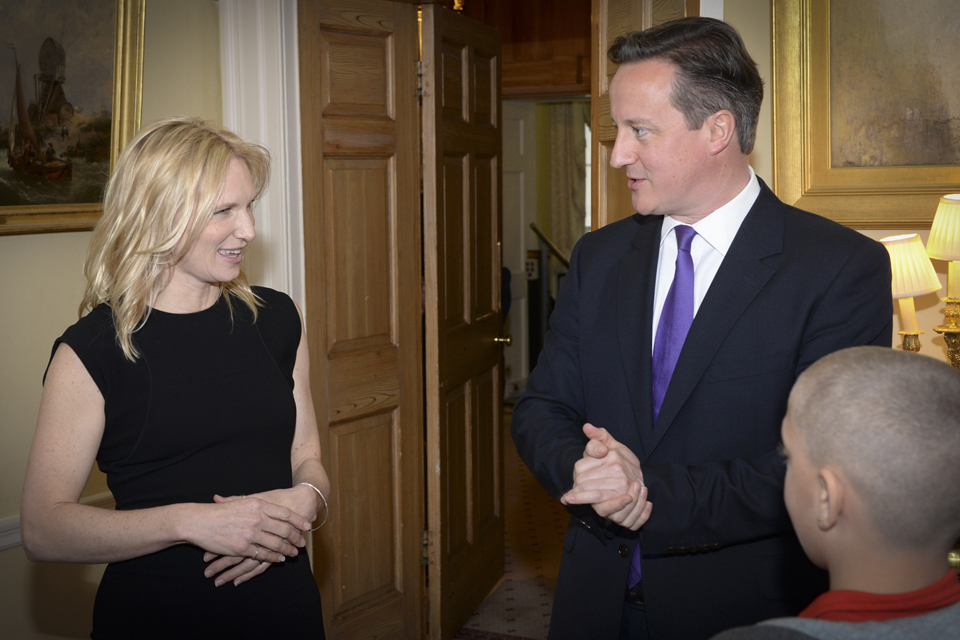 Inspirational stories from Sport Relief fundraisers
2 of the fundraisers at today's event were Josh and his Dad Andy. Josh, now 17, was just 9 years old when a virus left him paralysed from the neck down. Spider-Y, a project in Leeds which provides a range of sports activities for people with disabilities, helped him turn his life around and thanks to the project he is now competing at a national level in basketball. Funded by cash raised through Sport Relief, the members are also great fundraisers and aim to raise over £1,000 this year by doing as many miles as possible using wheelchairs, blade runners and hand cycles.
Andy, Josh's dad and Spider-Y Chairman, said:
The support we've had from Sport Relief really helped us when we needed it, so it's important for us to do our bit so someone else can benefit. Doing something for Sport Relief is our way of paying back the support we've received. We know first-hand how important it is.
Another fundraiser who attended today's event was Simon Lund, part of the Royal Navy's Northern Diving Group in Faslane, Scotland. Normally he and his colleagues do underwater bomb disposal or repairs but for Sport Relief they've undertaken an amazing challenge to cycle underwater for 24 hours and break the Guinness World Record of 102 miles.
Bloggers Tanya Barrow, Annie Spratt and Penny Alexander, who founded #TeamHonk to get online communities of mums active and fundraising for Sport Relief, were also recognised for their fundraising efforts. They've created #TeamHonkRelay, a group of 200 bloggers from all over the UK, to take a baton 3,000 miles from Land's End to John O' Groats in 10 weeks, all to raise money for Sport Relief. They've been running, cycling, swimming, roller skating, scooting and pushing buggies with friends and family as they go, and have already raised over £20,000 with more still coming in.
Several schools were at the event for doing their bit for Sport Relief, including the Sir Joseph Mathematical School, which has already raised £29,000 with a host of gruelling activities. Teachers and pupils alike are giving it everything they've got with activities such as kayaking the non-tidal Thames, skydiving 10,000 feet and completing 24 sports in 24 hours. 2 of the school's head teachers are no exception, aiming to raise £500 by swimming a mile, cycling 20 miles and walking 8 miles.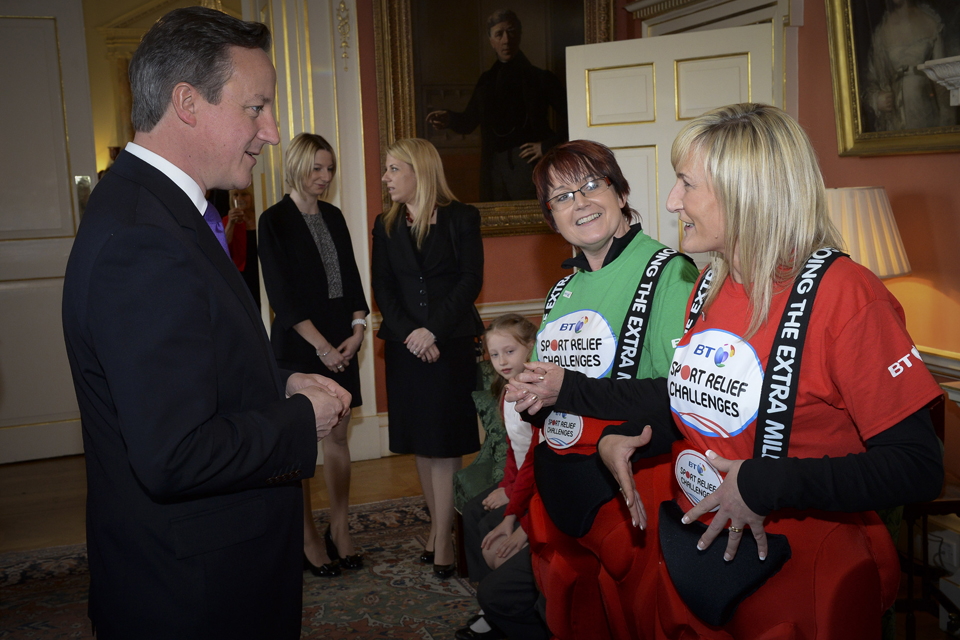 Run, swim or cycle
This year's Sport Relief is more ambitious than ever as, for the first time, the public can choose to run, swim or cycle as part of the Sainsbury's Sport Relief Games across one weekend from 21 to 23 March 2014. Anyone inspired by these and all the other fundraisers at Number 10 today can find out how to get involved too at www.sportrelief.com.
The money raised for Sport Relief is spent by Comic Relief to give extremely vulnerable and disadvantaged people in the UK and throughout the world a helping hand to turn their lives around.
Find out what Sport Relief events are happening near you and how you can get involved on the Sport Relief website.
Published 17 March 2014