News story
Customers now receive more application results online
E-Despatch and enhancements to the portal PDF downloads area are now live.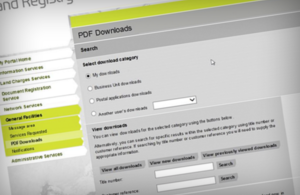 Today we activated the ability to return more of our customer's land registration application results instantly and securely to their Land Registry portal accounts – even if they sent us their application through the post.
If a customer has a Land Registry portal account, nearly all of their application results will now be returned online, rather than via the post, with the exception of First Registration results and large, complex plans.
All customers will continue to receive results of completed First Registration applications of unregistered land, and large complex plans in the post.
Customers who do not have portal accounts will continue to receive application results through the post.
Retrieving results
Customers who have portal accounts can access their application results from the portal PDF downloads area. The documents are available to view for 30 calendar days (inclusive of the application completion date).
Enhancements to the PDF Download area enable customers to choose whether they view all of their organisation's downloads, any new downloads, or previously viewed downloads.
They can filter results by:
My downloads
Business unit downloads
Postal applications downloads
Another user's downloads
Customers can also search by title number or their customer reference to find a specific application.
You can view the step-by-step guidance and set up an RSS feed to receive notifications when new application results arrive in their portal account.
Customers who don't have portal accounts can sign up to the portal for quicker, secure online transactions.
Whether customers have a portal account or not, all postal applications should be sent to our central PO Box/DX address to ensure they are received, and entered on the daylist as quickly as possible.
Published 13 July 2015