Press release
Customer Service Excellence Standard for FHI
Fish Health Inspectorate lands Customer Service Excellence Standard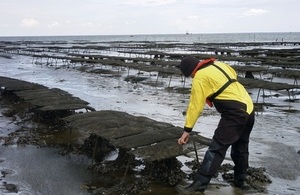 The Fish Health Inspectorate (FHI) has been awarded the Cabinet Office's prestigious Customer Service Excellence (CSE) Standard.
CSE is the gold standard award for customer service delivery , recognising that a public or private sector organisation delivers services which are efficient, effective, and place customers at the heart of the service provision.
To achieve this award, the FHI needed to score at least 80% compliance across all assessment criteria. The Inspectorate was tested against 57 criteria across five key service areas - such as delivery, timeliness, professionalism, and staff attitudes - during a rigorous two day independent assessment. The assessor reviewed all evidence provided, spoke with staff in different roles, and spoke with a range of the FHI's key customers and stakeholders.
His report concluded:
The FHI is customer focused, despite its regulatory role, and balances well compliance with statute and enforcement. It is highly regarded in the industry and has a raft of positive comment from satisfaction surveys regularly undertaken. There is a clear commitment to put the customer at the heart of service delivery, and insight is used to inform policy and strategy.
Kevin Denham, Head of the FHI, said:
This was a significant team effort taking 18 months of hard work. Strong customer service is vitally important for our team and especially as we discharge regulatory work. Our commitment to continuous improvement has resulted in this accolade. Yet there are always further areas we can improve on, and we will continue to strive to improve our customer service.
Tom Karsten, Chief Executive for Cefas, said:
Achieving the Customer Service Excellence Standard is a real endorsement of the Fish Health Inspectorate's commitment to excellent delivery and self-challenge. I am delighted to be able to congratulate the team on their success. This is a significant achievement for Cefas, as we join Environment Agency and Natural England in being awarded the Standard.
Nigel Gibbens, Chief Veterinary Officer for the UK, said:
Congratulations to the Fish Health Inspectorate on achieving the prestigious Customer Service Excellence Standard. This award exemplifies the commitment across Defra in supporting the five year strategy of continually striving to be the best, focused on outcomes, and constantly challenging itself.
The accreditation lasts for three years, with the FHI being assessed each year by independent assessors.
Notes to editors
Cefas is an executive agency of the Department for Environment, Food and Rural Affairs (Defra). The Fish Health Inspectorate (FHI), based at Cefas' Weymouth laboratory, is dedicated to maintaining and improving fish and shellfish health in England and Wales. Its primary role is to act for Defra and Welsh Government (WG) in undertaking statutory and inspection duties resulting from the EU fish health regime and other national legislation in the area of fish and shellfish health. The FHI is responsible for health certification of fish and shellfish movements from other countries, and runs an enforcement programme aimed at preventing the illegal importation of these animals.
Further information on the Cabinet Office's Customer Service Excellence Standard accreditation is available on their website.
Published 9 October 2015